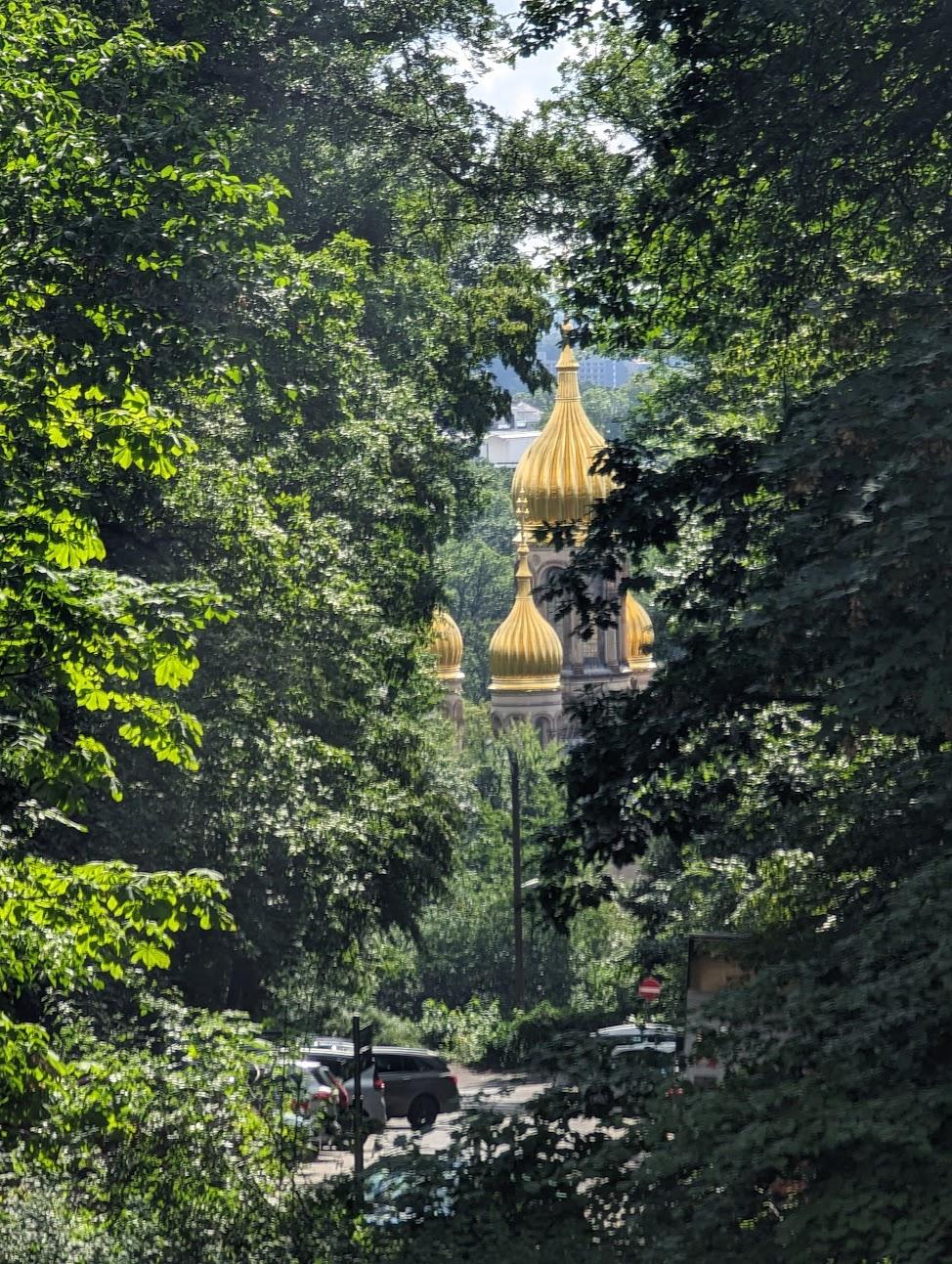 Sorry, guys at Mammutmarsch.de – for me this is my old home – Wiesbaden – the city where I grew up, where I went to school, where I went swimming – to the playgrounds, Where we scouts were meeting up in Dambachtal. Where Burg Sonnenberg was a standard destination to walk to – passing by even more playgrunds. Sorry, guys, that's not Mammutmarsch Rhein Main for me. Start and goal in center Wiesbaden – where I went to preschool. where my brother once dropped me when I was really little and I had to find my way home alone. That's Mammutmarsch Wiesbaden for me :))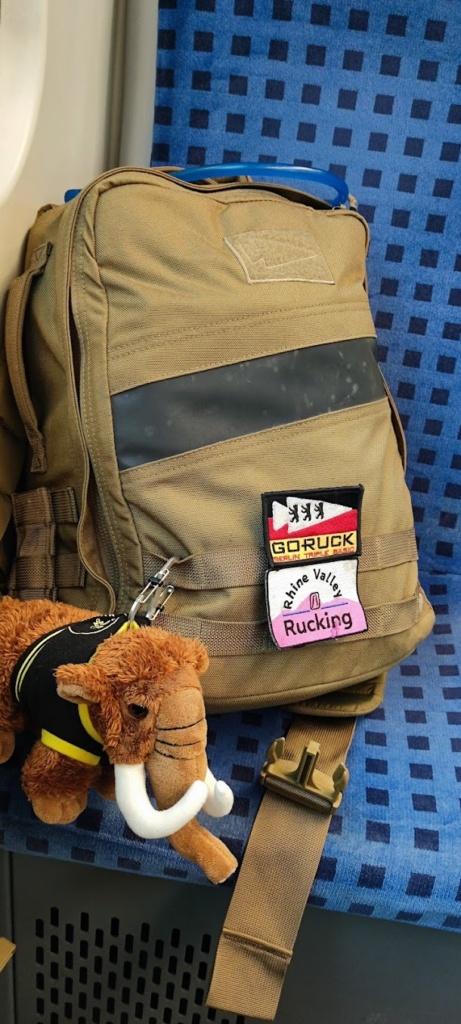 Needless to say – after Heidelberg I expected the best. A long time I was deciding whether to do the 30km or the 55 – if I'd ruck – carry extra weight or if I wouldn't. How many meters of altitude that would be – I knew – getting out of Frauenstein – ther'd be some vinyard hills. Actually also already Neroberg – Wiesbaden's very own vinyard.
So I finally got the last space in the second last starting group – signed up to a happy 55km. Martin brought me to Offenbach so I could just hop out of the train and walk the extra km to the Market Square. Starbucks at the station was closed – my coffee needed to come from somewhere else.
The Marktkirche directly next to us, the atmosphere already growing excitingly tension laden – A few more minutes then the triple shout-out…"Mammut" – "Marsch"…… thrice. Yeah. Foot before foot and the first step to this hike was done.
The meters of altitude were not as toughly distributed like in Heidelberg. Only a few stairs. Climbing to the castle in Sonnenberg, Climbing the Neroberg. Enjoying the view from up there – with a glimpse toward the Golden Church – as we kids always had called the Orthodox church. There was an aid station and the friendly volunteers passed out pea-soup with caffein into my coffee mug.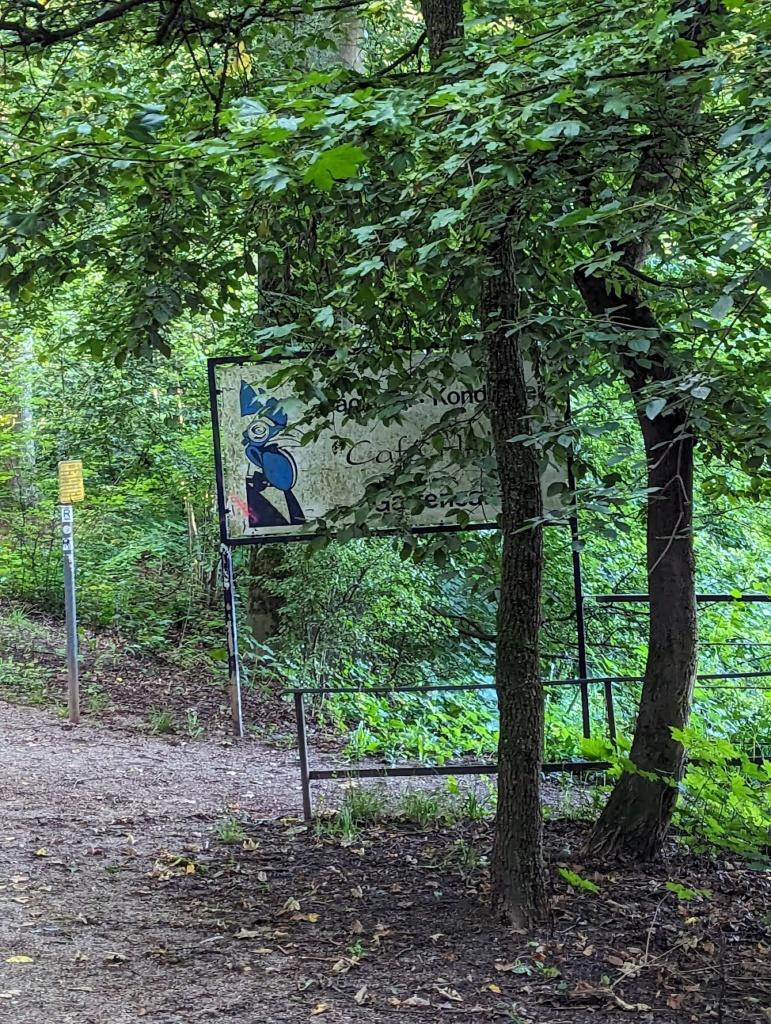 The way into Rheingau started to get exhausting. Lots of forest. lush from the latest rain. We actually also got our shower. Up up up, one ramp, another… But the view from the Goethe monument was a valid reward.
And the answer to the ever-repeating question. Why? Why do I do this. Why did I run Ironman when I ran Ironman. Why do I put up weight onto my shoulders and climb hills? Why? I heard a few of the same questions from my neighboring mammothes. And each – they all know that the why is answered by the finish. Going those last few steps. It just feels great – it is an accomplishment not everyone can do. And – again – the view from up there. that's an answer, too.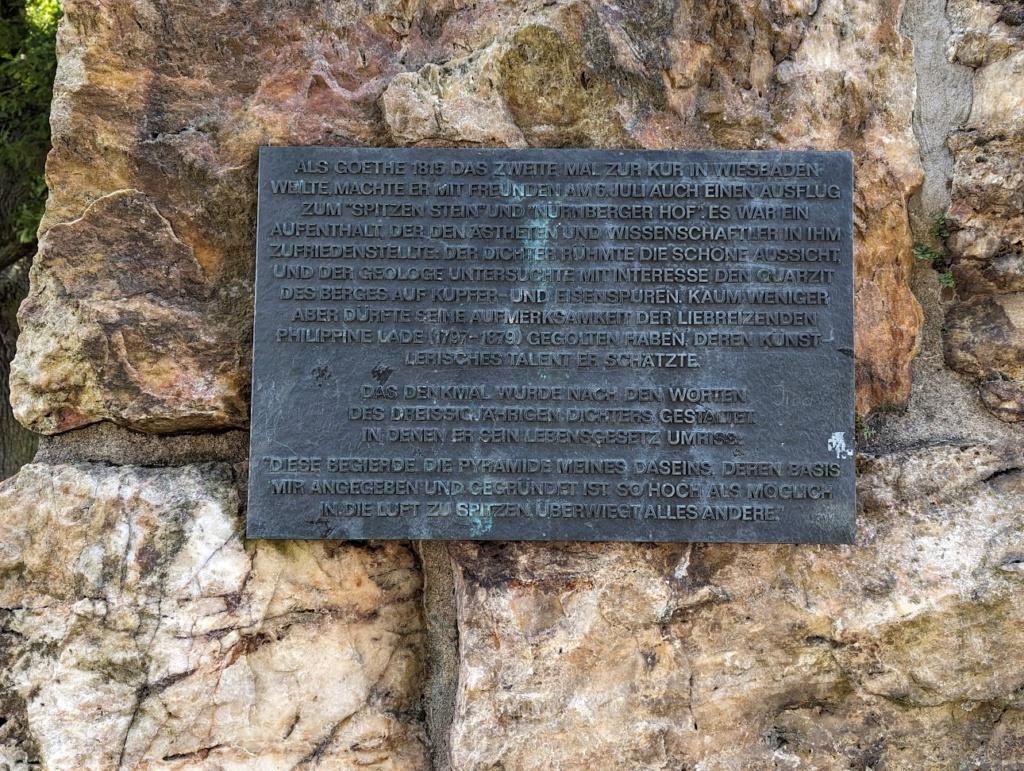 Eventually the path wound down toward the Rhine – where 15km or so of flat concrete was waiting for us. The sign said we could swim – but – hey the Rhine flows the other direction. This would carry us North. Not back to Biebrich. A few lizards in their holes in the walls were watching us.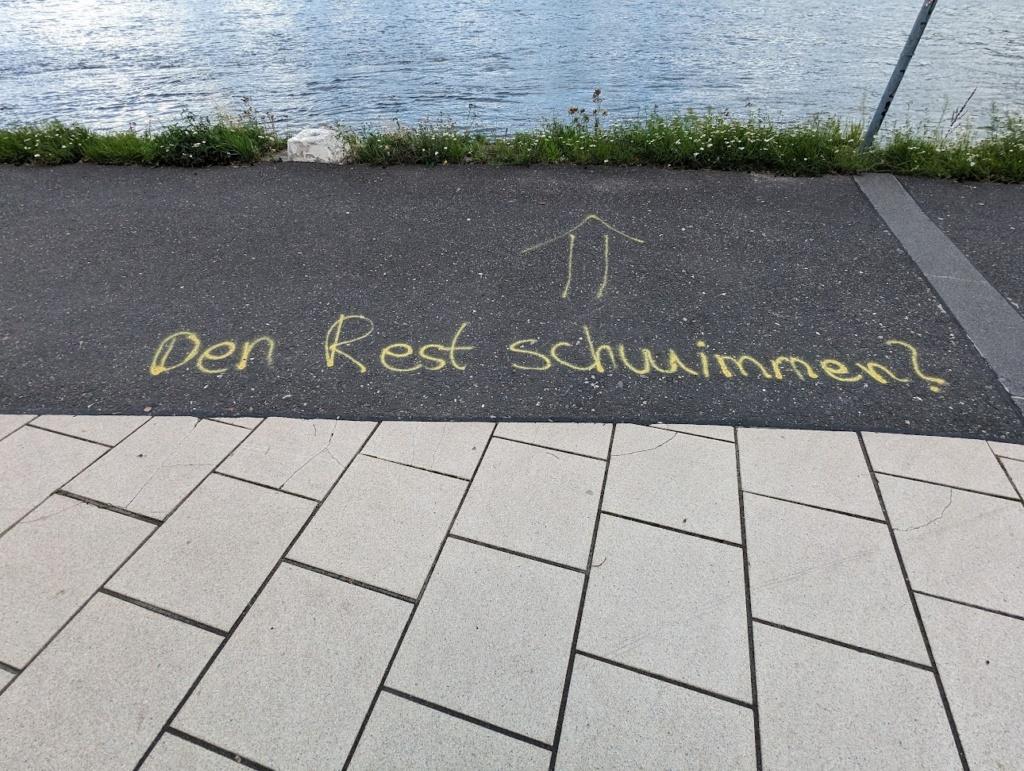 We passed the Highway Bridge – in repair since whenever. Old infrastructure… Biebrich Palace. Their broth was magic. Salt the stuff my body was missing. And yet another giant mammoth filled with air, ready to have pictures taken at. A bit up to a weird looking church – hiking also is sightseeing.
Coming down back into the city we could see where we had been that same morning. The Golden Church – never easy to miss.
And finally. Train station. Wilhelmstrasse. Dernsches Gelaende… FINISH…….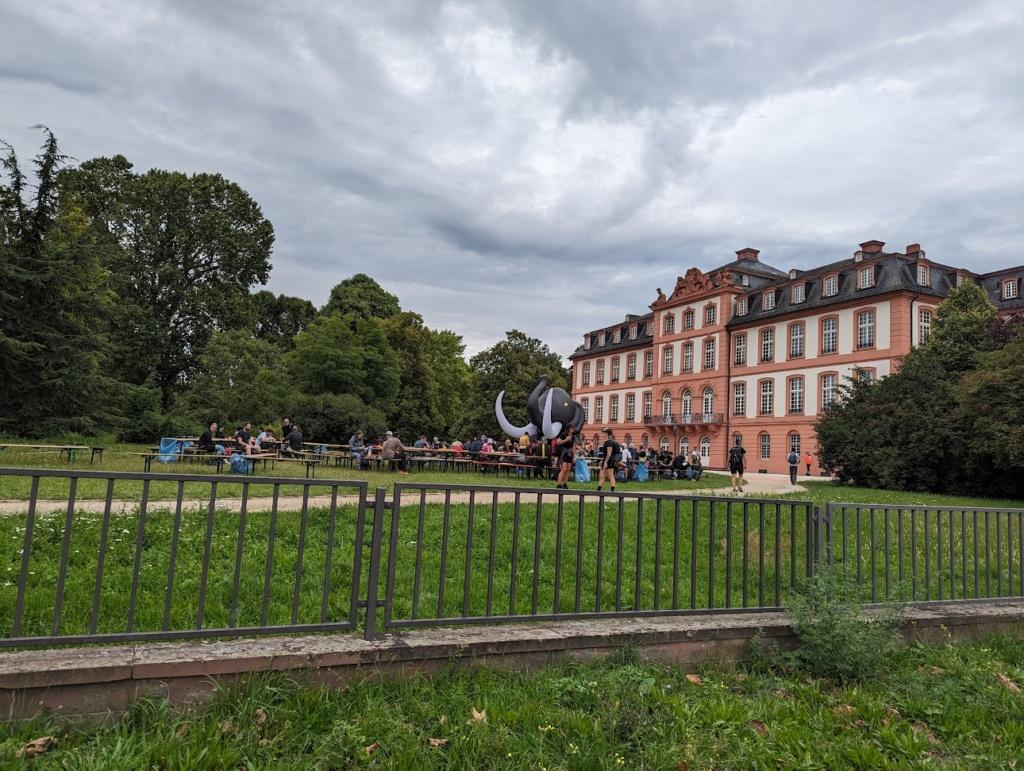 Wow, that was a march and it had been so beautiful. Tough – like all of them – but beautiful.
What's next?