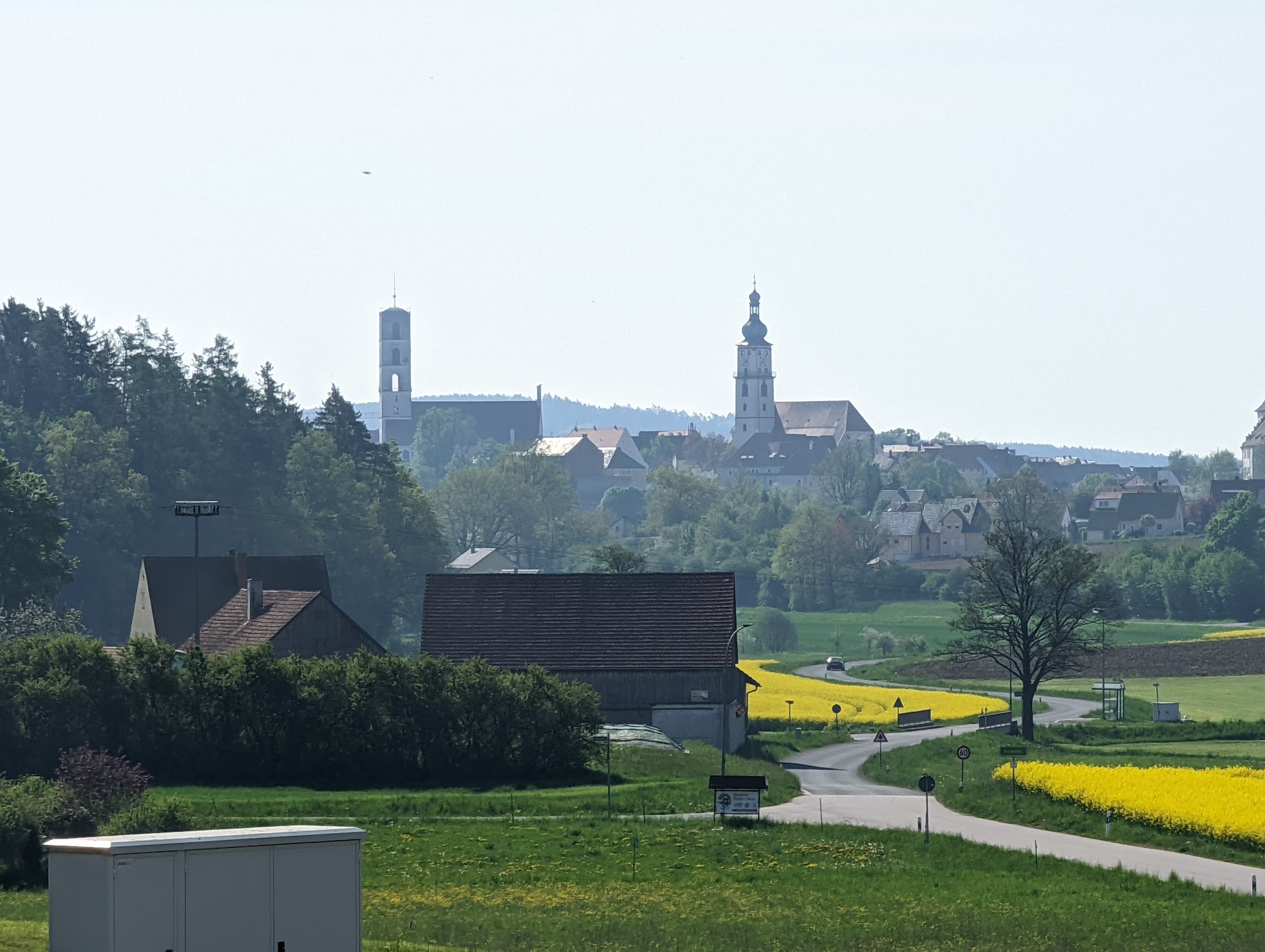 Gruenau, yesterday, this day I first found the towns of Suess (sweet), Ottensoos, Pommelsbrunn, Lauf, Hammer
What makes people name their villages? Why would my village be named "hammer"
I got a delicious breakfast at my place,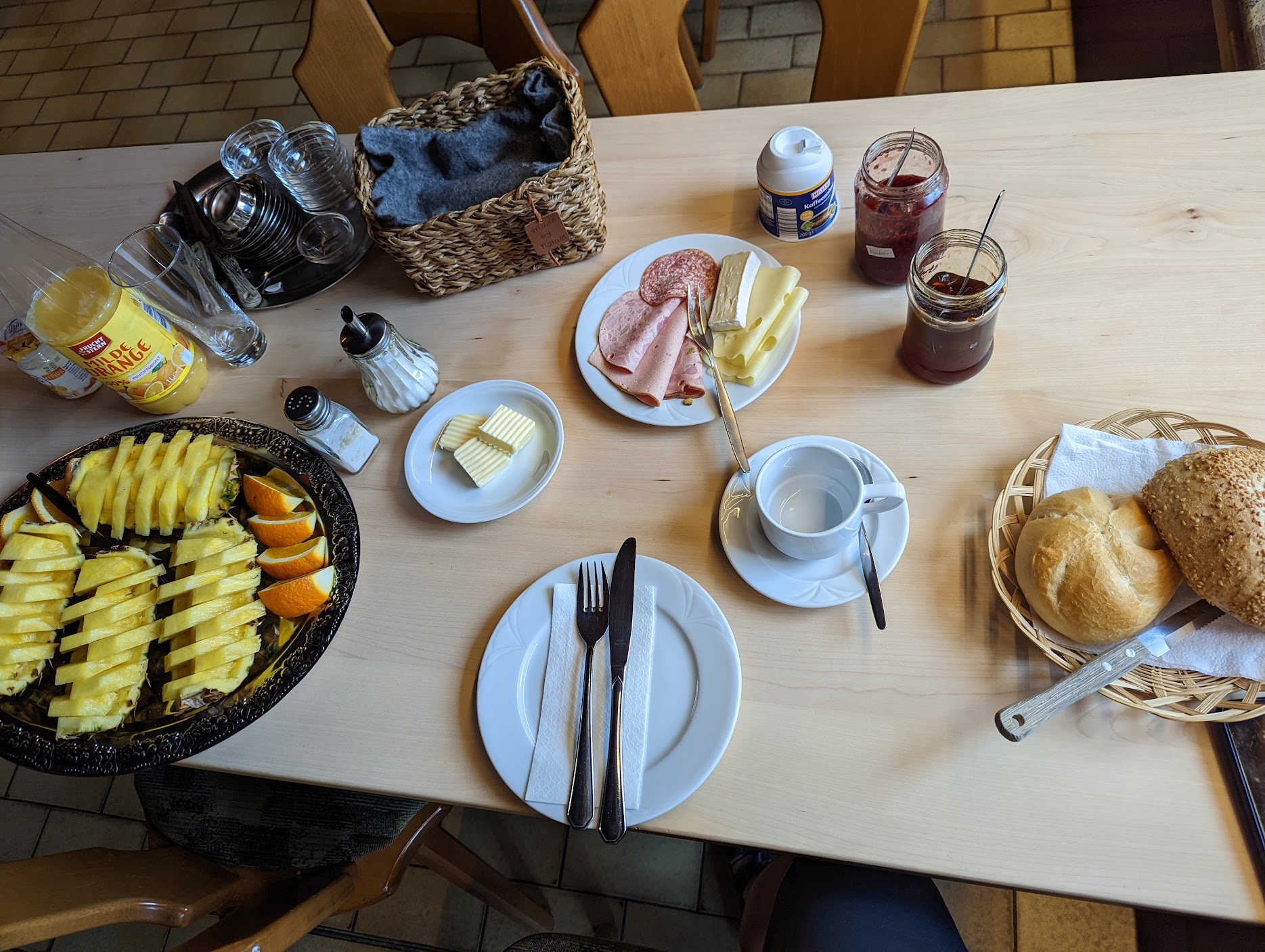 Whatever, on my merry way along the B14 road, with a few excursions to the side. I knew I wanted to hit Nuremberg this day, and then ride a bit farther. Some hills involved, but more down than up. I passed a pond where some frogs sang so loud, they were louder than the neighboring birds. Not ingress frogs, though. Not sure if those sing.
Eventually I ended in Lauf. At yet another ice cream parlor (someone sees a pattern here?) – in this little town they had a sign – km to Prague and km to Paris. The neighboring table – two moms with their very little kids. Both with stroller, I'd estimate both being around a year or younger. And communicating. One being unhappy, so the other litte tyke looking and not being happy either.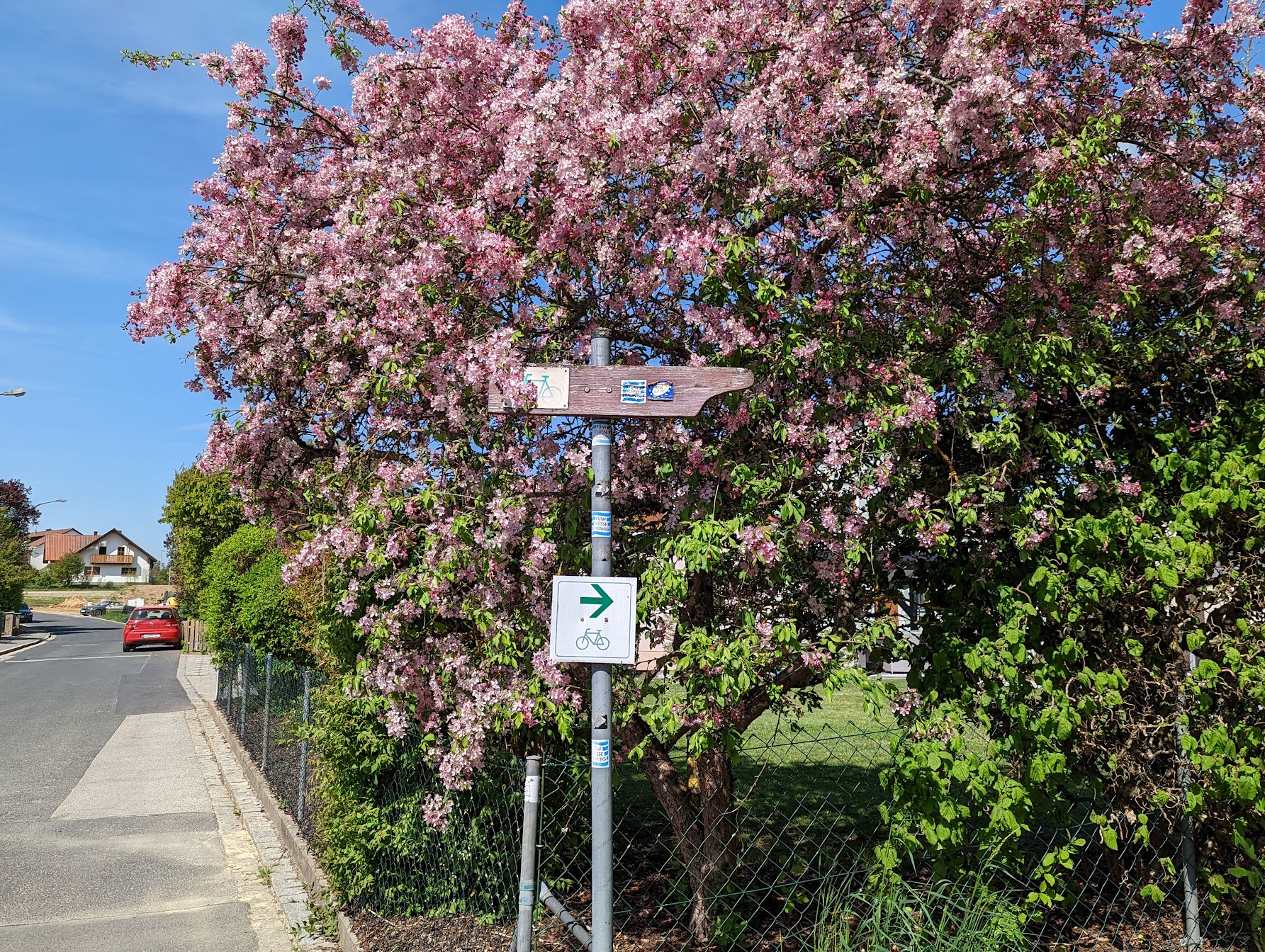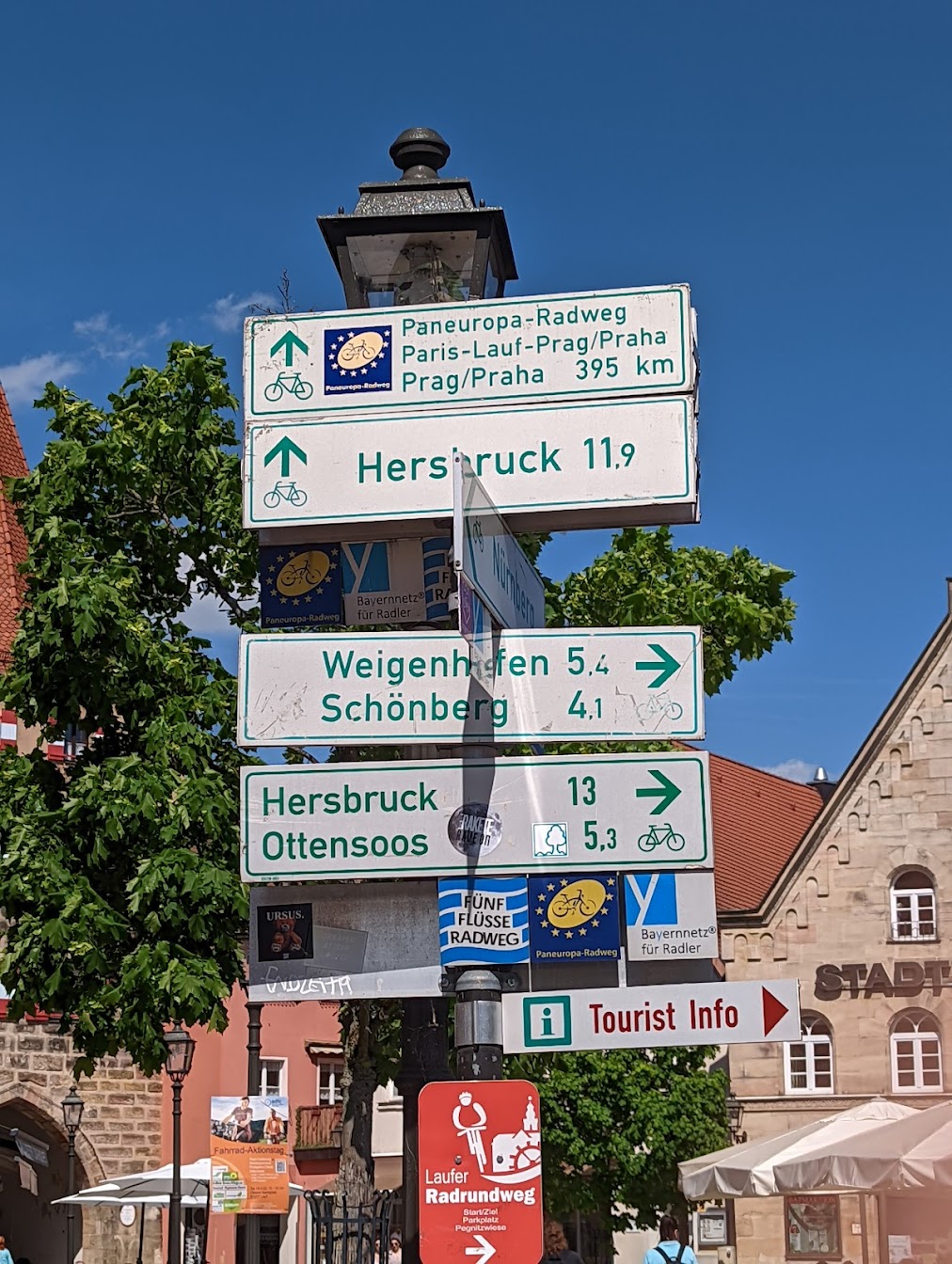 So – I finally knew how long my trip officially is. 395km + 1142km = 1537km… Just because I found that little sign in Kronau, saying this thing's name is Paneuropa Bikeway.
Originally I started despite a bad back – which always caught me cycling. But with the goal to verify that name – Pan – whole – Europa – Europe… Not that those three countries are the whole of Europe – but it seemed intriguing to just start here. Especially for I could just start at home.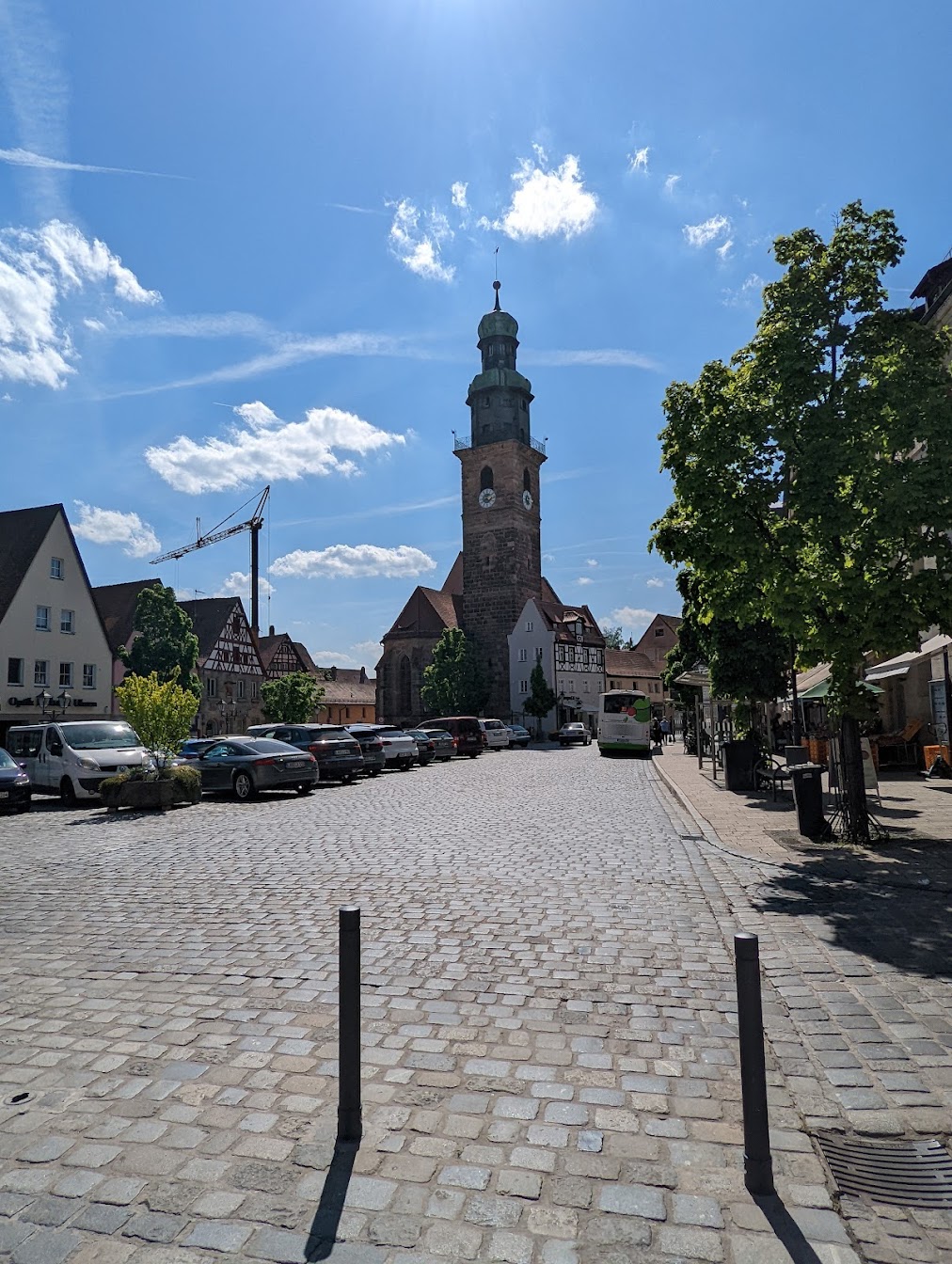 And then – I ended up in the city again – my path led me all the way through the city of Nuremberg.
On a short break I chatted with a friend – and – seemingly – there are always others who have done that thing you are doing. In the way – when I told someone at home he went like – oh, my 70 year old dad could do that. And I'm thinking (not saying) – but – well, that is not me – this is not the never liking-sports-in-her-youth person who also could do that. Maybe he could because he grew up cycling and doing physical work all his life. Hey here I am, a triathlete, maybe former triathlete – female, which means – already fewer muscles for those hills – and the only thing I bring is bad training and the will to do it.
Now when I chatted with that friend, she also had a colleague who had done that route. I think there are more people on this world who have done the whole Paneuropa. Also faster than me (no art). Also many people who have nine ironman races in their lives. Also faster than me.
But this is my path – I adopted it – I ride it, I am at home with it, crashing on it, creating stories with it. Meeting people, losingand finding stuff on it. This is my – adventure. Nobody else's. It runs through my village and I while I might not be the only person from my 6000 soul village who has done this – I did it in those smaller and larger etappes, seeing the landscape I saw, entering the portal into ingress which I found, met the people I met.
I am amazed other people do this – but this time is my time. Which also meant that the beautiful city or Nuremberg – like all cities – ist providing me a difficult to find continuation of my path. But I found a cold coffee at the Starbucks… With this beautiful weather everyone and their dog was outdoors – I rode really really slow and carefully. Until I was out of the city, along the Pegnitz, and went on in direction of Fuerth. Like the first ever German Steam Engine.
Which is what my telegram profile says at the moment. Steam engine… The thing which gets things going. Not by talking but by doing. Well, also by talking and writing, I guess…
The path went to be a bit shorter as the signs said – but I went on to find the village of Zirndorf, where I had booked a bed and breakfast at the hotel Bub. Some dinner on their porch, only then I took my luggage into the – again 2nd floor – room. This was a very old wood-construction building with very odd geometry. You had a door and after the door there were stairs into my room. A nice and clean room and somewhat defunct TV, the satelite should be calibrated, I guess. but for I did not intend to watch "gone with the wind" it did not really matter.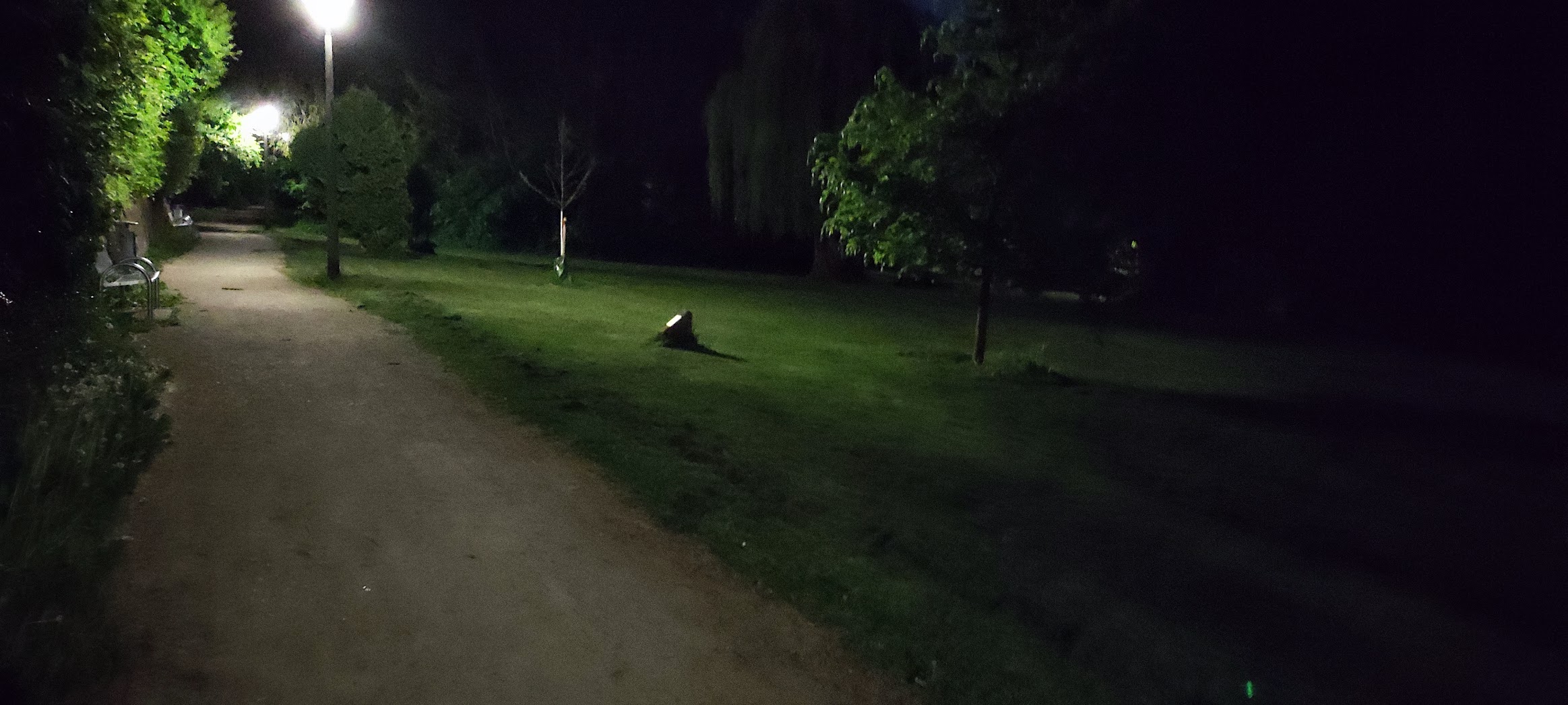 Me being located in the 2nd floor did not stop me from going into town to get some green portals blue. For example in a very dark park.
Good night, Zirndorf 🙂