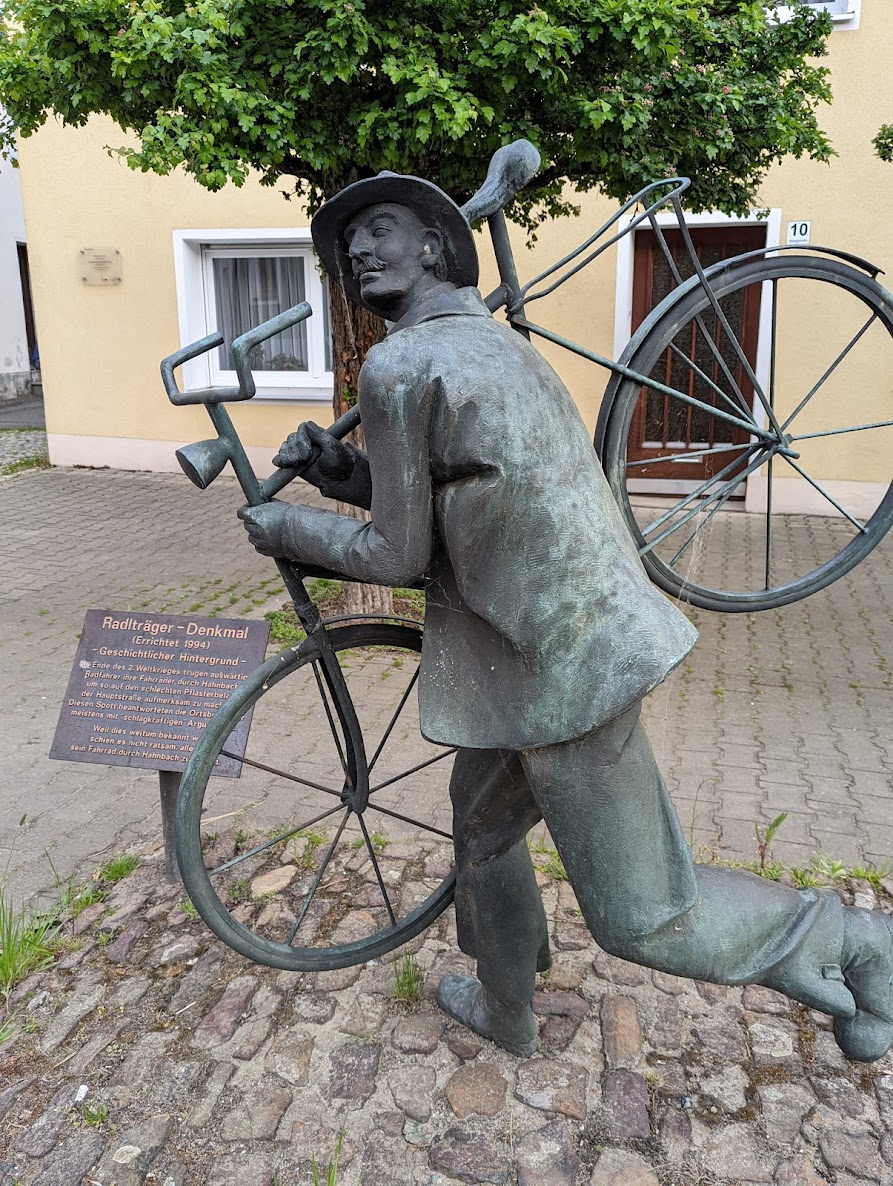 Early morning – again a Pension with a working heater, my bike clothes were absolutely dry. No breakfast, so I set off, back in Germany I should easily find a bakery somewhere…
Ant that I did – delicious breakfast in a backyard with canaries in a voliere.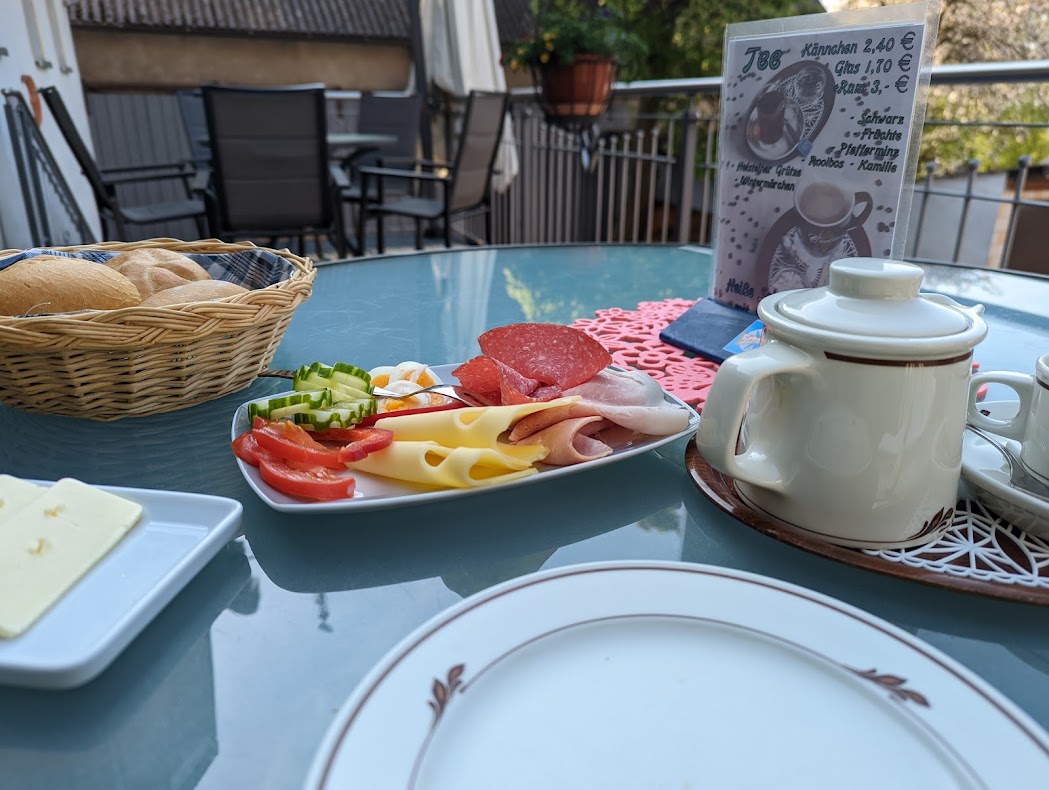 Again enough coffee for me – and then I started following th Bockl Bike Path – which was characterized by those little pieces of rails, and the warning not to cross the rail line. As if there's a long rail line passing.
Beautiful moring. My elbow just still hurt a bit. Everything else swell. This bike path ran for quite some distance along a former rail, as it looks like.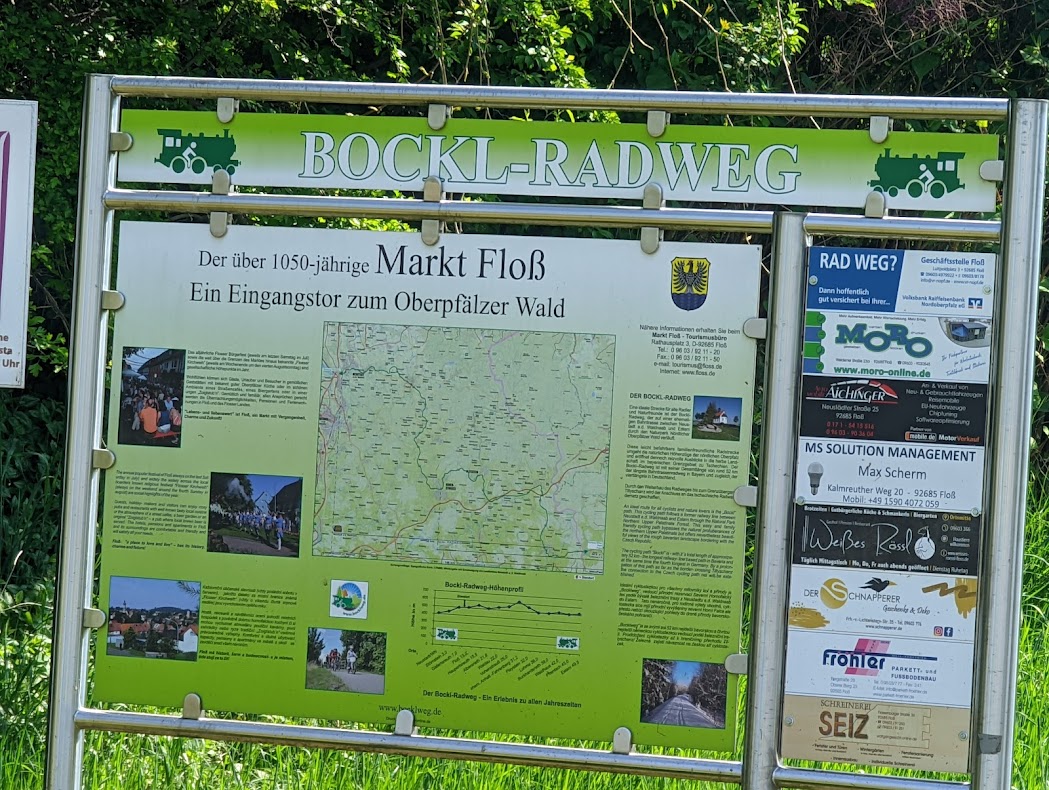 Again I got diverted at a defunct bridge. I see a pattern here. But – whatever – there's always another bridge… somewhere
There is always another bridge…somewhere…
Aside from the bridge, the morning was quite uneventful and I entered one of the towns to try to find an ice cream parlor – or a coffee place or bakery. I found a closed restaurant instead – the owner seeing me checking the door, and coming out.
A cyclist.
They "get" it. That I need a water bottle filled, maybe a restroom.
He even made me a coffee which I deleted while my Bee-Two rested at the e-bike-charger.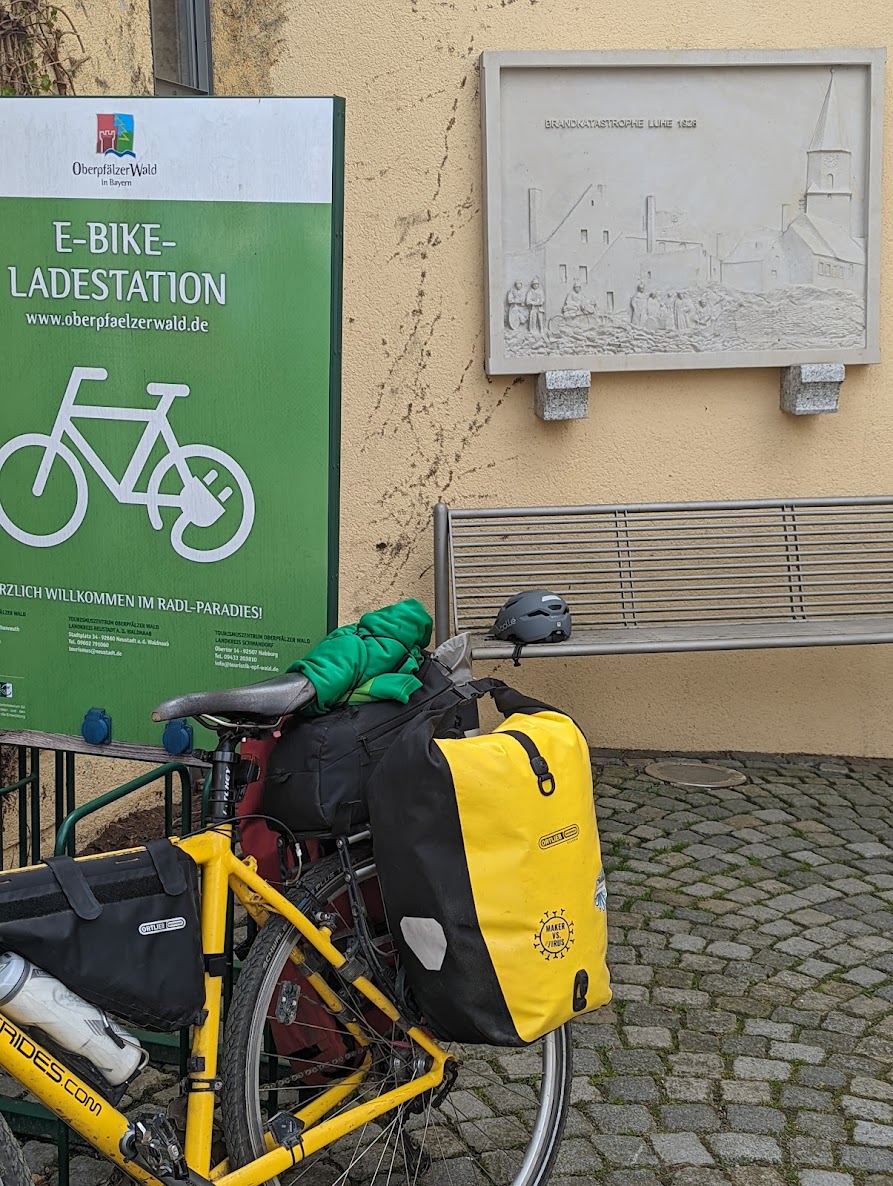 Later I almost came home – while Kronau is derived from "Grunaw" – as in green meadow – I went rhough Gruenau which essentially means the same. Too funny. While I sat eating ice cream a mom taught her kid how to cross the street. Flashback – Zoe never crossed the street when anything moving was visible. Being an extremely careful kid, being the smalles ever kid going to a school in Kronau, or so it seemed, but definitely wise enough to respect traffic. This little girl behaved the same. This was a calm street, no speeding cars. But still enough cars to keep her from crossing about 15 minutes. Patient mom.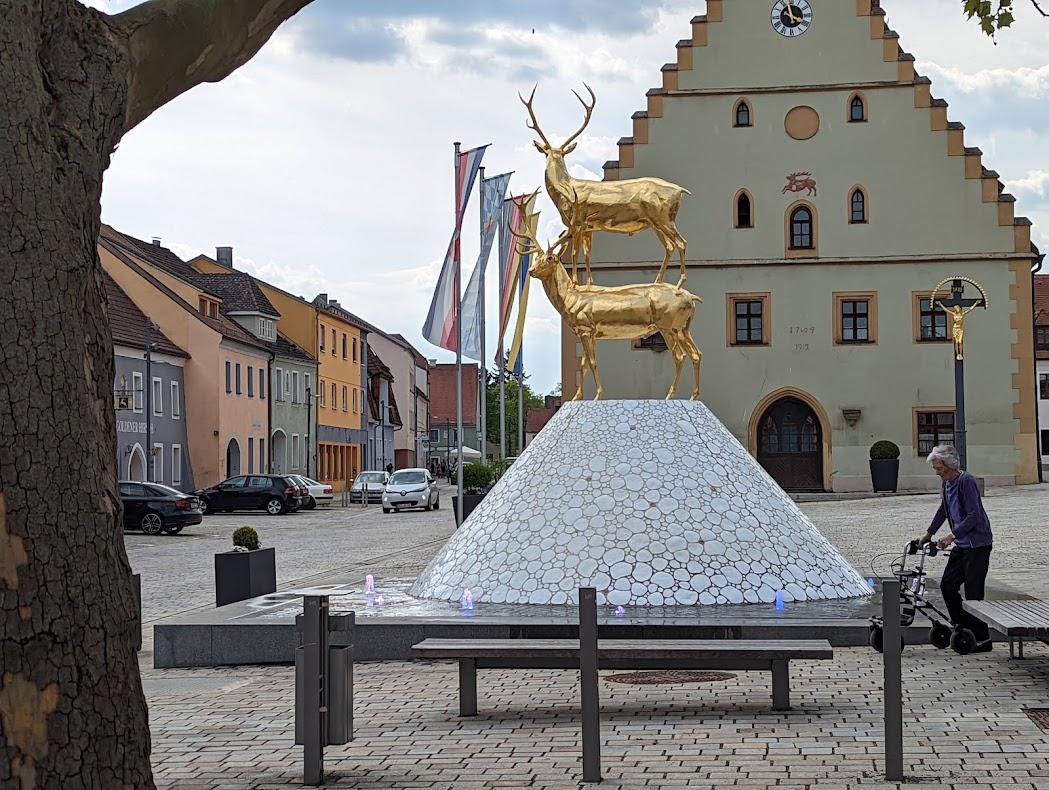 Then there was Hirschau. Which finally sported an ice cream parlor. And a golden statue. Lots of Canola on the fields – I know enough people reacting onto that plant – gratefully I am not – and can just enjoy the solid yellow.
On my way to Hahnbach there was another blocked street – and as a cyclist you always think – well, I can carry my bike around, or push it. This even works if it's two trees blocking the path. But it doesn't work on that one Prague bridge. And it did not work on that little road whcih was closed and the only detour – short of getting 100 meters of altitude down and then up again – went through someone's garden.
who owned a dog.
Gratefully the owner was sitting outdoors – seriously, there was no signage, and it was only half clear that that was private ground. but also I would not have known another way to pass by there. No signage, nothing.
And it was me and another cyclist meeting at that fateful place – so none of us got bitten for Mr dog could maybe neot decide. More likely, the dog saw its owner unalarmed.
Good dinner in Hahnbach, Hotel Ritter with Blasmusik – and a look onto the signage of the Radtraeger – the guy noticing the bad roads in Hahnbach and rather than riding, carrying his bike across town – which resulted in some aggressiveness of the inhabitants.
The roads weren't so bad in Hahnbach. I just rode…
A very nice and calm evening.
And a good pension – I just had to walk way way up to get to my room.
Good Night, Hahnbach!!