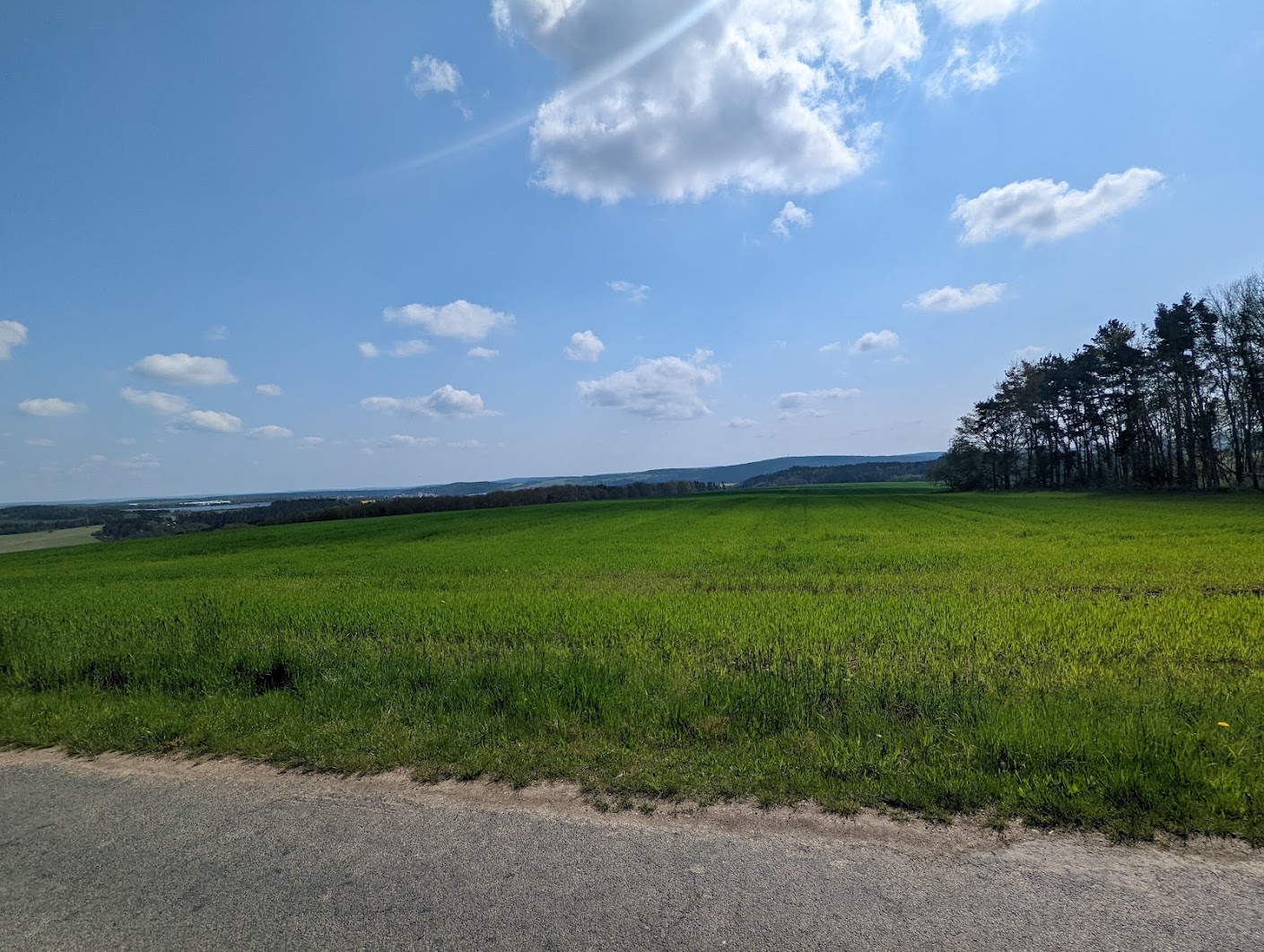 The next morning I got a delicious breakfast in my Stribro pension, and then set off to buy a helmet. The store opened at 8AM, and a very friendly person who happened to speak some English, sold me a gray bolle helmet.
I payed, we chatted a bit about riding through forest bike paths and all that – the store was an all-sport shop and they had even scooters for adults. Scooters are nice – I had got a scooter for myself when I had those severe back problems that I barely could ride my bike. But that was one with small wheels – these had really large wheels, and should not cause one to somersault over any obstacle on the road.
On my way back to the pension the they had an bell ensemble paying, I had to stop and listen. Then I went to my room, packed my bike, put on my helmet and set off.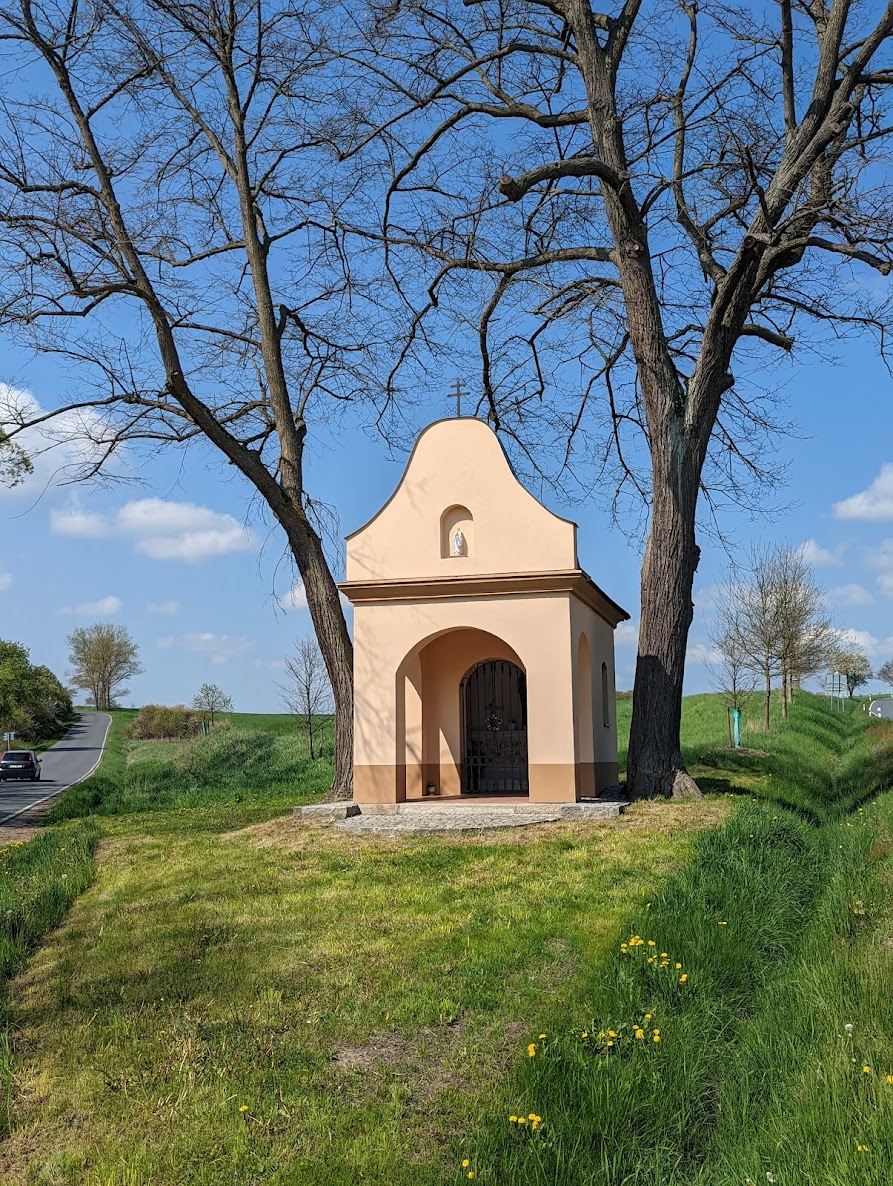 A lovely town, yet, on their river I now also saw that there were quite a number of bunkers and I was thinking about war at the time then – and about nowadays, why people don't stop fighting. Right now – Europe more important than ever. Europe as a place of culture, of Human rights and – as weird as it may sound, as some kind of power which is NOT the US, NOT China, NOT Russia. I really wish, people would stop thinking about borders and start thinking about how to save each other. What happened to caring. On my trip from Paris I had passed cementaries. Lots of them, young men, dead, in each having the same style of grave. Why the killing? Our planet provides for all of us, if we find a decent way of sharing.
The terrain was similar to yesterday's only I had decided to prioritize what signage gave me, and not what GPS gave me. So I followed route 37. In the forest one time the path was completely blocked by wood workers, so I snuck up there, signed them through their noisy equipment, waited till they saw me and let me pass.
The path was a mess with wood leftovers etc. and one of these leftovers must have been a thicker stick, I don't really know – I must have caught it with one wheel, my bike got a loud bang and I could not hold my bike on the downhill track. And Crashed
Nastily. I felt my head bang against the floor, my newly helmeted head, my elbow took a bloody bruise, and this was the first time, since I was about seven years old, that I fell from my bike in a manner that I'd hit my head.
I had not been slow. It had been a downhill after all.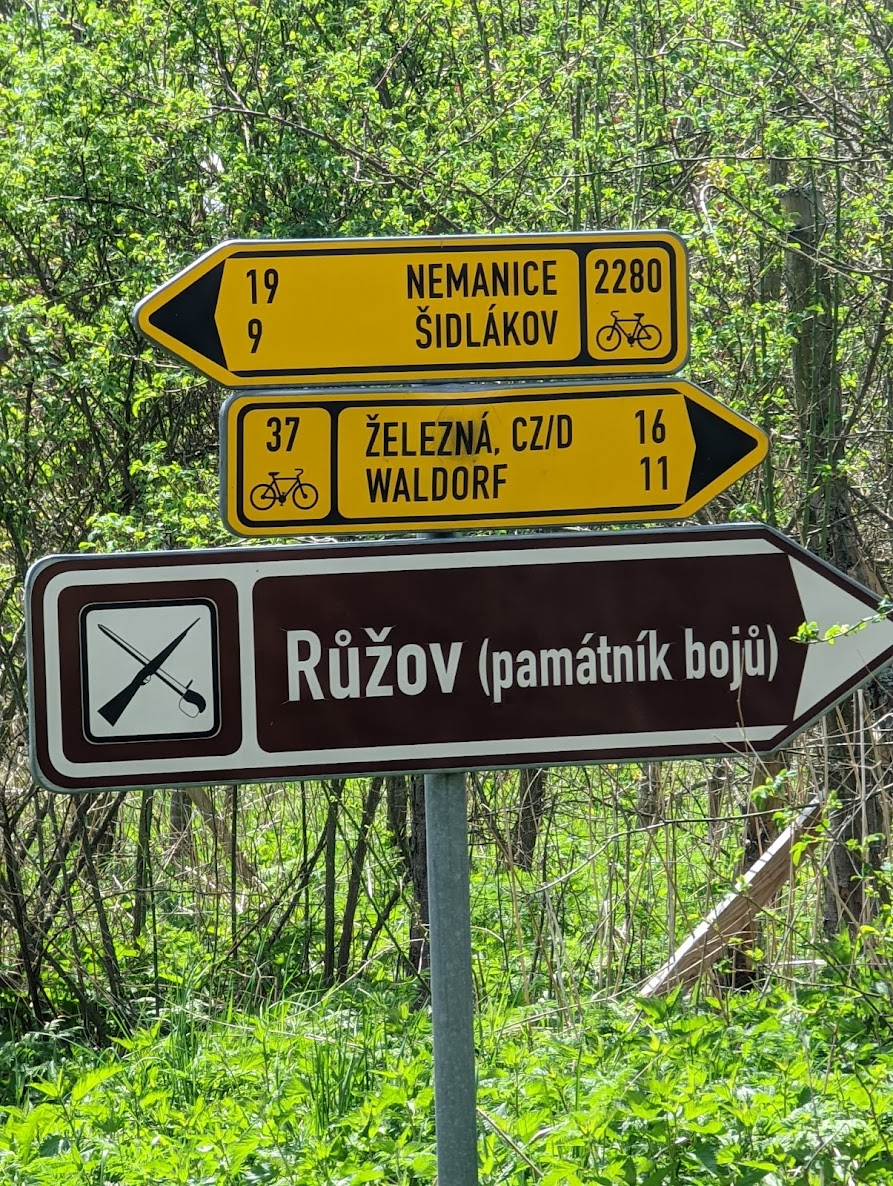 Well, I learned some first aid, why not use it on myself. I picked up the bike, picked up myself, checked my elbow which looked like a mess with half the forest floor mingled into a bleeding wound. My first aid kit provided a sterile compresse, I used my drinking water to clean up a bit and stuck a band aid on top of it. No other bruises. At least nothing serious.
Even my luggage rack had held – I had expected to need to re-affix it to the frame.
This crash kind of rattled me – I had not been with helmet the whole day before.
Lucky me…Just a sore elbow and a bit of a headache. Lucky me.
I was on my way to the border, too, this time the Bavaria-Czechia border – and I recalled, that we had been on a one week field trip at the time. And as cruel as kids can be – we had one girl always being the one picked on, for she was super sensitive. And I remember – in the report from our field trip they had a little poem – "wir streckten die Finger ueber die Grenze, und die […], jetzt flennt se" (we reached over the border with our fingers, and […], now crying) Retrospective – none were really nice. none of the kids creating that poem, none not defending this girl.
And then – alone the notion of border. I could just cycle ther.e, and pass. In former times – long lines of tourists waiting. Hiding cigarettes…The Iron curtain border being considered dangerous.
How can anyone want to be back into that old system of separating humans from each other???
Before I hit the border, I took a break at a place I'd submit as an ingress portal. Zelezna Chapel – I made some coffee there, checked my elbow, my helmet, and – complete solitude – nobody there.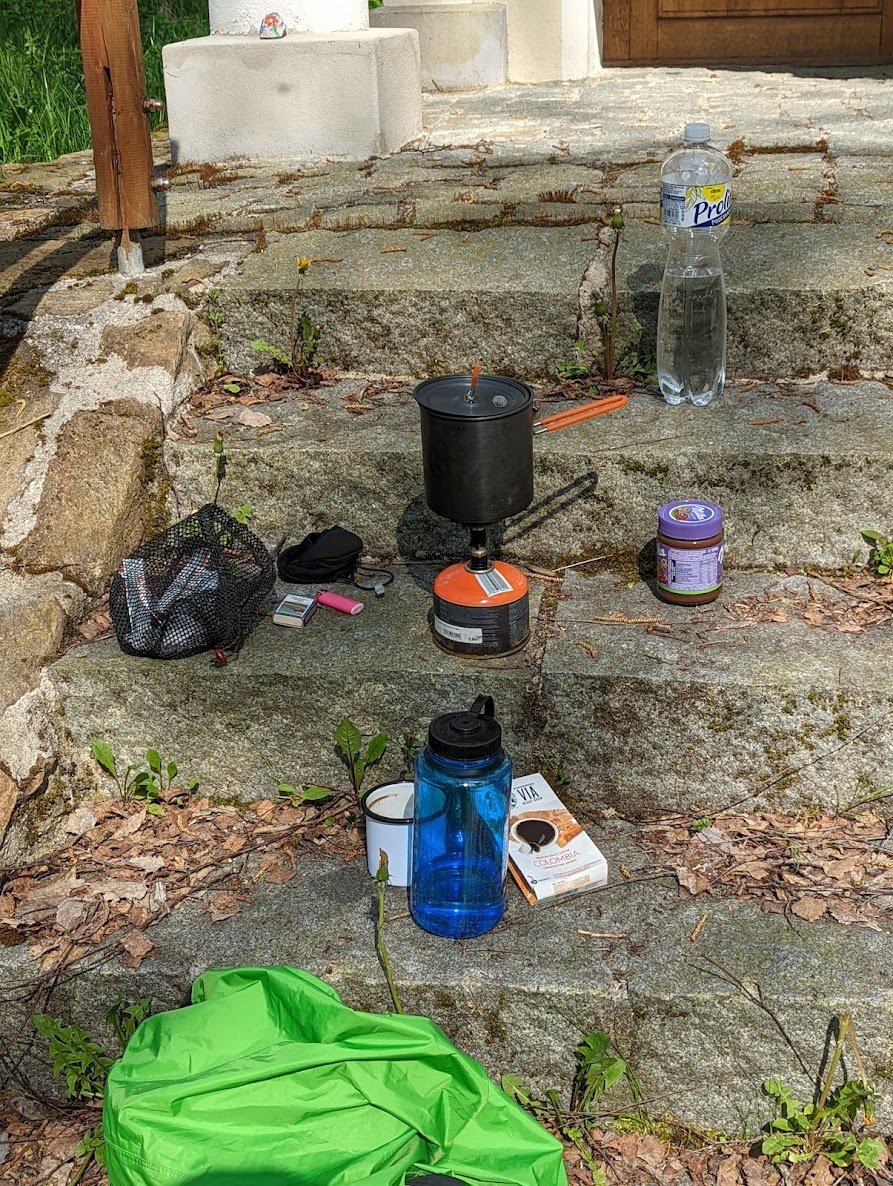 And then came the border – Tillyschanz, no questions, no controls – in former time this would have been the pathway to enemy's land.
Remembering my dad who got in trouble once for staying a day to long behind the Iron Curtain. Former time Yugoslavia. Just because the ferry we had planned to take was delayed for several hours.
After the border, I had about 10km on the Green Roof Bike Way to find my pension. I also found a burger joint, right around there, fought to do my daily mile – this time it really took an effort. Also I captured a portal in which I saw green resos of a local player from where I live, which I found funny. Also the ingress world is small…
Thanks, Pension, for working heaters – I could dry my bloodied and washed jersey, so I could use it another day right away.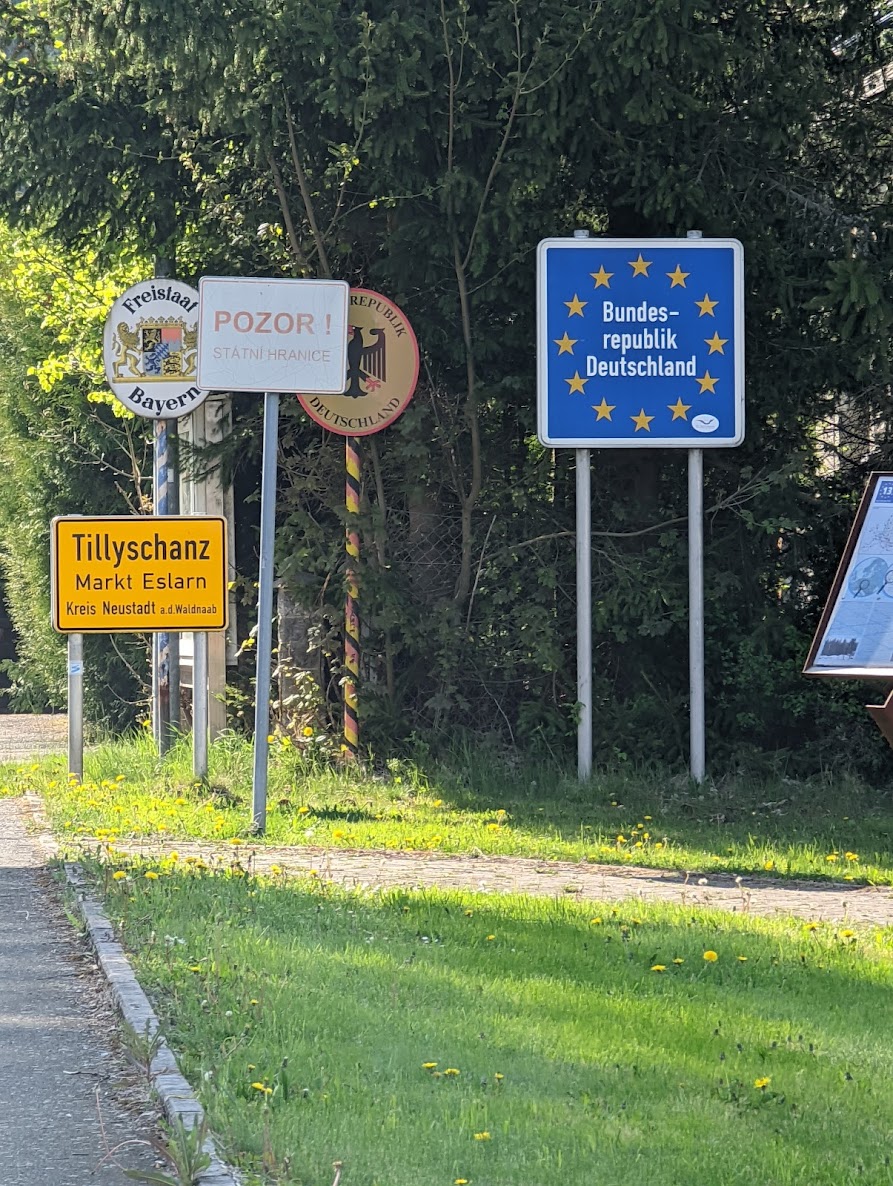 .