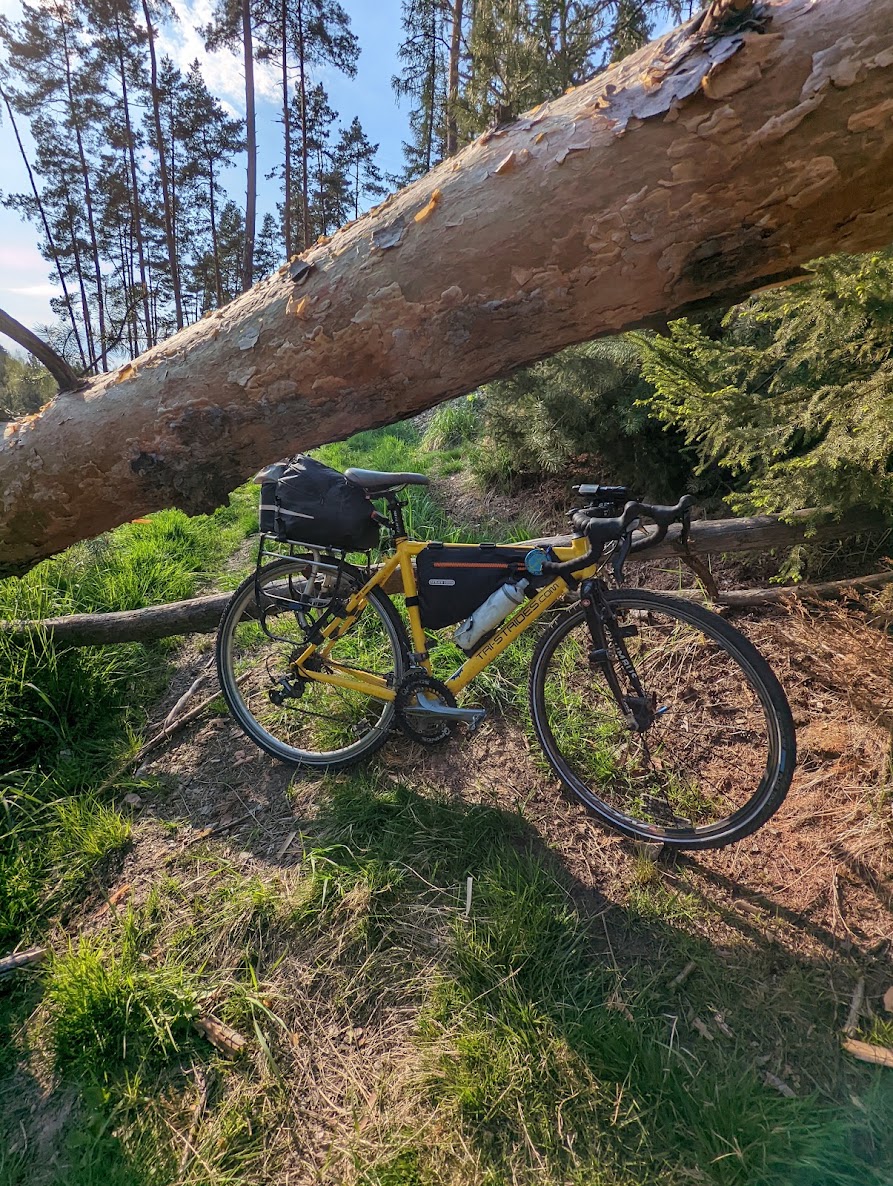 This is more or less a hostel – a bed, plus facilities to clean up,, It was good I had packed towel and soap (always good to know where your towel is) but I could not get breakfast. On the other hand, I didn't mind setting off and searching for some local bakery or cafe en route.
When I was still leaving the premises, I noticed I had left my helmet somewhere. No idea where, but it was gone. Not in my bedroom, not in the bath, at the restaurant, I asked there. Gone. And I do NOT like riding bareheaded. Not at all, but for that was a national Czech holiday I had to. 
Somewhat hungry, I rode about  20km where I found a little town with a village plaza and a cafe. Some sweet something plus plenty of coffee and I was ready to go. Sitting outdoors, watching people, nobody telling me I had to leave, watching some more and eventually mounting my aluminium horse to set off. 
It kinda felt strange – the holiday was about the End of WWII, me being German to see people celebrate. When I was a kid, our teachers stilll told us all this cruel stuff happening also was our fault which I always refused to take in. But I am riding paneuropa – I am Europeenne, because I am responsible not to ever cause or help cause anything like the German Regime arounnd WWII. Moreover I feel responsible to advertise for European unity. Things like they are happening in Europe, at the moment – some part-European country attacking, war in Europe – this is something which may not be allowed to happen. Humanity can only survive together. War destroys all chances for the future.
I was looking all over but none of the stores were open – for it was Sunday AND holiday. So I kept riding.
This was a really hilly part of the course. I had to push my bike up many hills.
Every Hill A Victory
Really really slow, I entered the good city of Pilsen, where I sat on the tourist square where everyone and their neighbor try Czech beer. I tried onion rings with beer batter which were de-li-cious.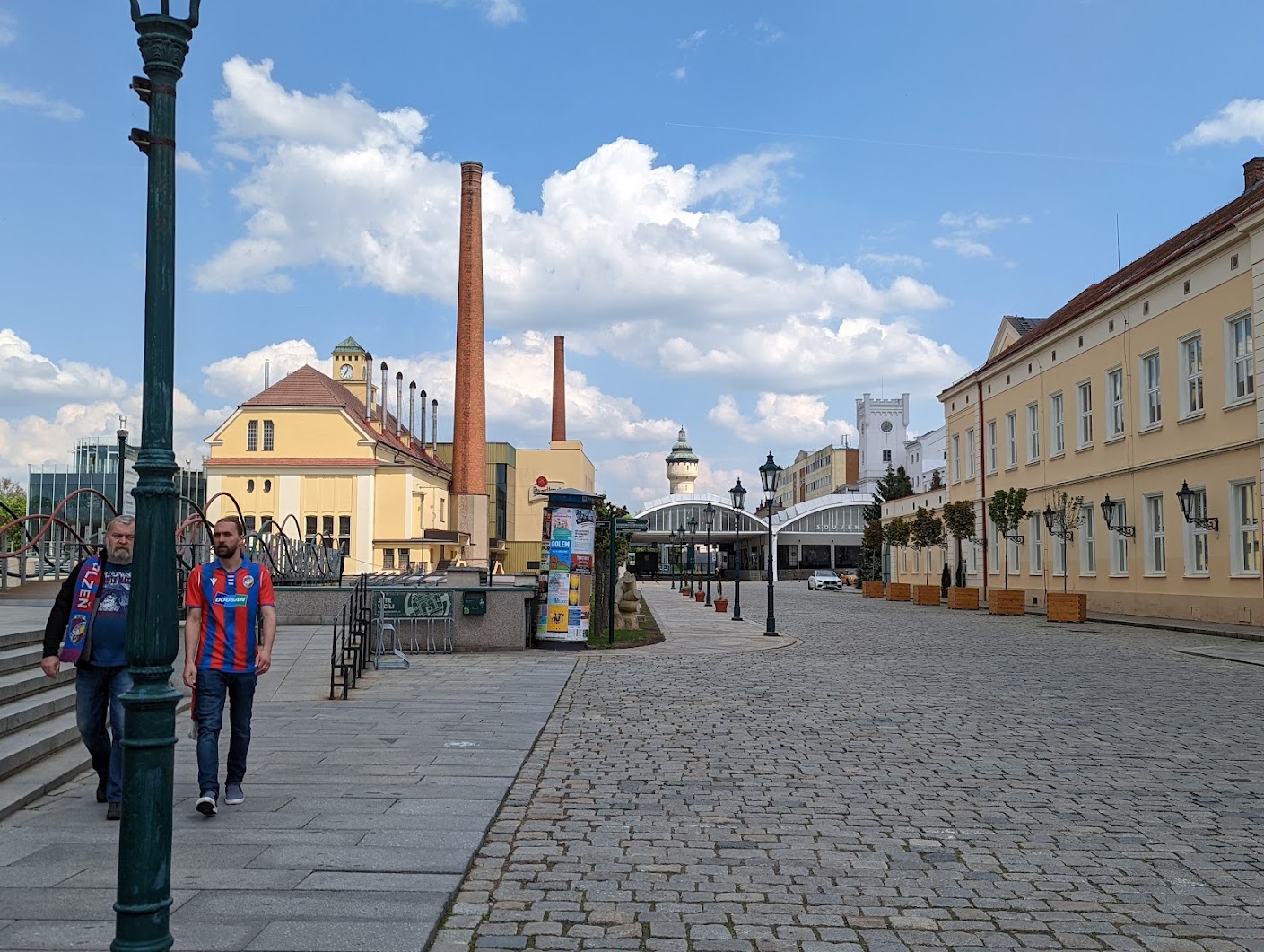 I really got into weird ways, sometimes following the signs with the route 37 number, sometimes following my GPS, whcih I had downloaded from the official PanEuropa web site (http://www.paneuropa-radweg.de/ ) I had to convert some of the gpx tracks, from some different file format, and revert everything, and most of the time, that track was very helpful. When I ended up with two trees right across my so called path…not so much…
This time I removed the bags from the bike and lifted Bee-Two through the gap between the two trees. Then the bags. Then a picture. What a bike path. Probably they had replaced the 2007 route with something better. But easy would be too easy, just go on hop on my bike and continue.
I passed a memorial of Jan Hus, the Czech reformer, also some kitten wanted to show me the path. Again there was coffee at the roadside. I really was glad I had brought that little burner.
More hills, until I found the town of Strbro. This time, I had booked in the morning, so I knew I should ride there – and I knew where I was going. The nice thing about this small city is, that they have a sports store where I planned to get myself a helmet right the next morning.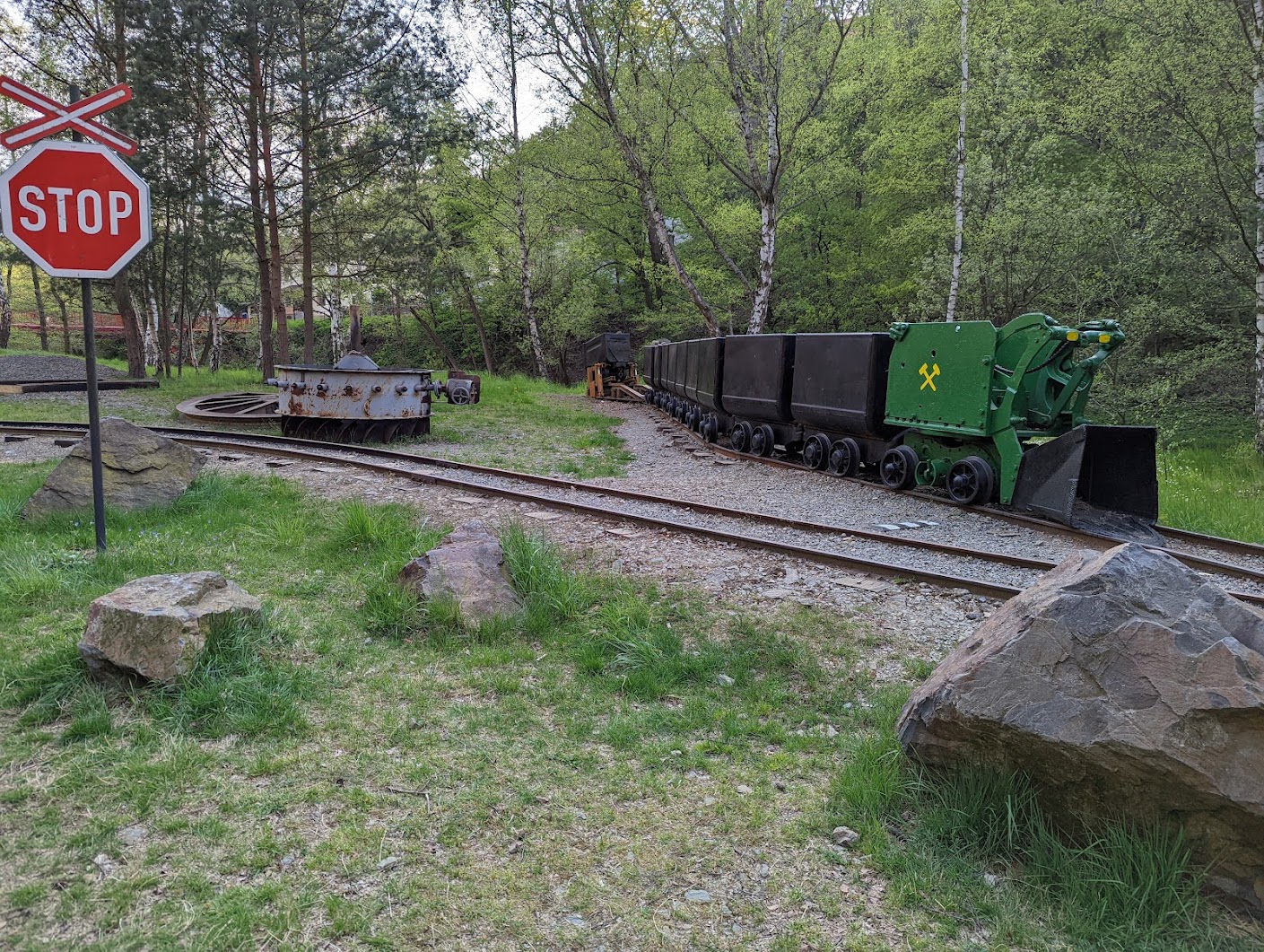 This town of Strbro treated me with a nice steak serving restaurant, the Rotunda, which even was a portal. Then I went to explore town, enjoyed the evening light, hacked and linked one or two portals. There were bunkers, probably from World War II – again traces of war. All of Europe is full of this kind of stuff – also around where I live, there are bunkers, which were built to defend Germany from invasion from the West (from the French border). So much waste of materials and manpower. Nowadays I just rode my bike over the border.
After my exploration tour I went to bed in a very nice pension.