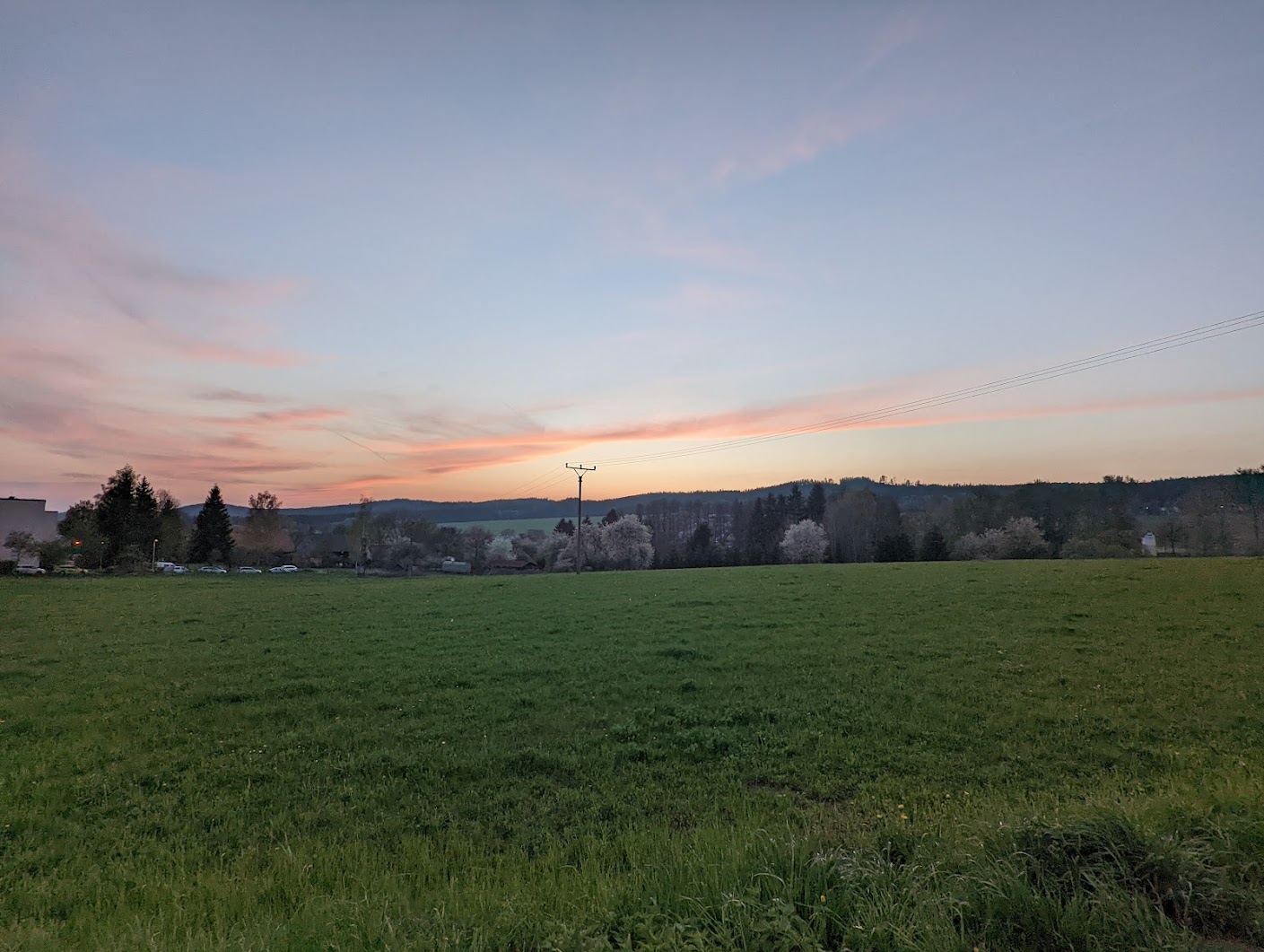 I just took a look at the old Paris blogs – this really looks pretty much the same – take a vehicle of my choice, set off, take a whole day for the travel – arrive in the evening – find a way to the city's biggest river, check the area – playing an ingress banner – even have a stranger male approach me – then going to some hotel. charge GPS device. Go to sleep…
Just a virus in between but everything else – all the same. Wearing a mask inside the hotel. Okay. One difference. But who cares…
Next morning after breakfast, and after a short second visit to Starbucks to get my Prague souvenir, I set off to find the end point of the Pan Europe Bike Path. I had been there that night , playing my mission, but of course only figured it out now. I even found the official sign stuck onto a regular bike path sign.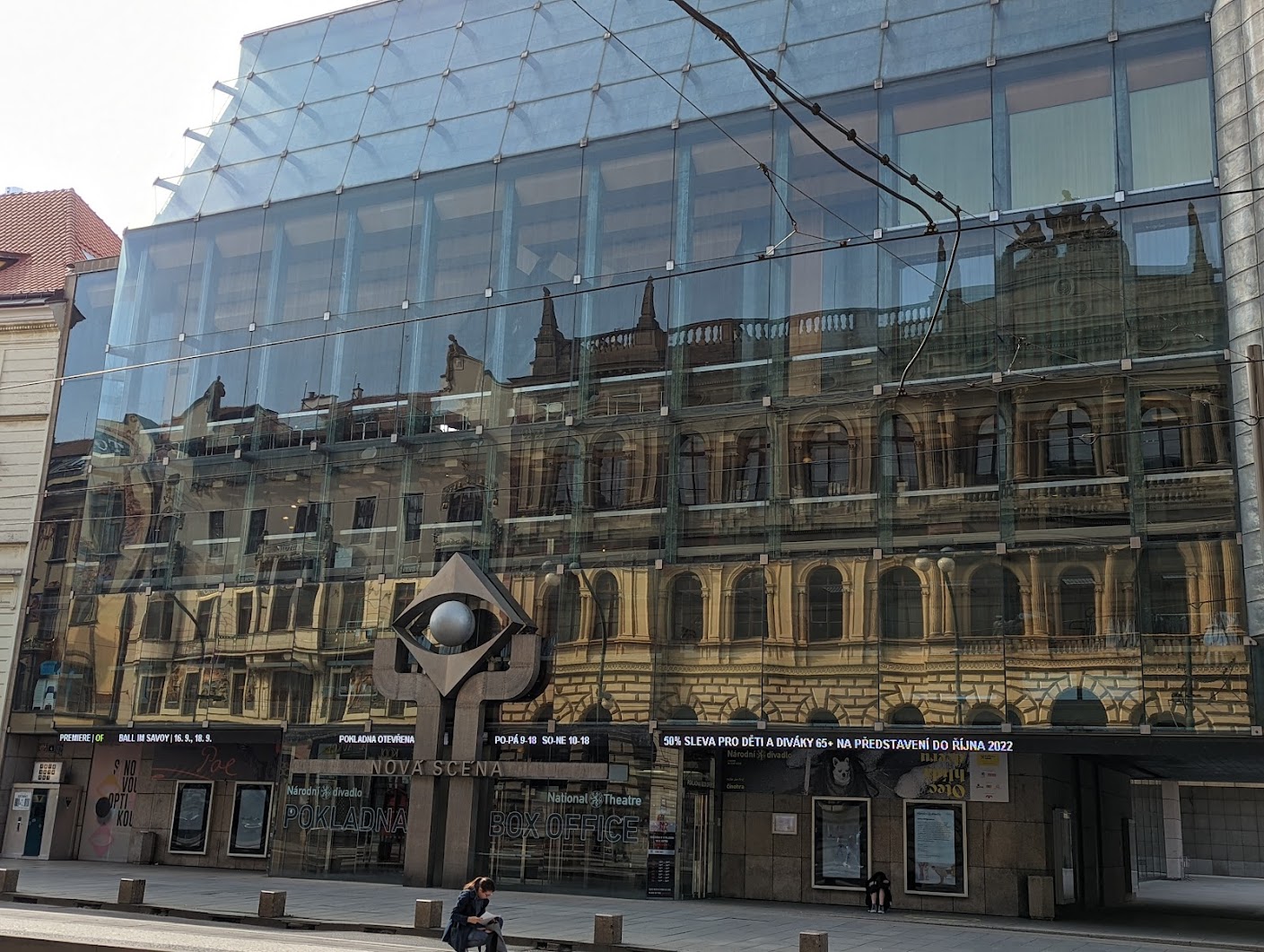 When setting off I definitely wasn't sure if I could make the whole last leg – Rothenburg-Prague – but as I learned over such a long time – step by step is the way to go. First – get outa this city.
My GPS directed me exactly – yet I had turned around the course – like I rode the official course backwards which I definitely noticed at one of the bridges. It meant riding the wrong side of the bikepath – but this was not really a problem.
Navigation in larger cities anyways always gets messy because signage gets changed a lot – and it is not easy to find your way while still not getting stuck in traffic.
Prague has many many bridges and one of them was in need of repairs so badly that they closed down the whole cycling path – not even a pedestrian could get through. So I turned around, continued with help of google maps to the next bridge – which turned out only accessible on foot via steep staircases – equivalent to climbing into someones third floor.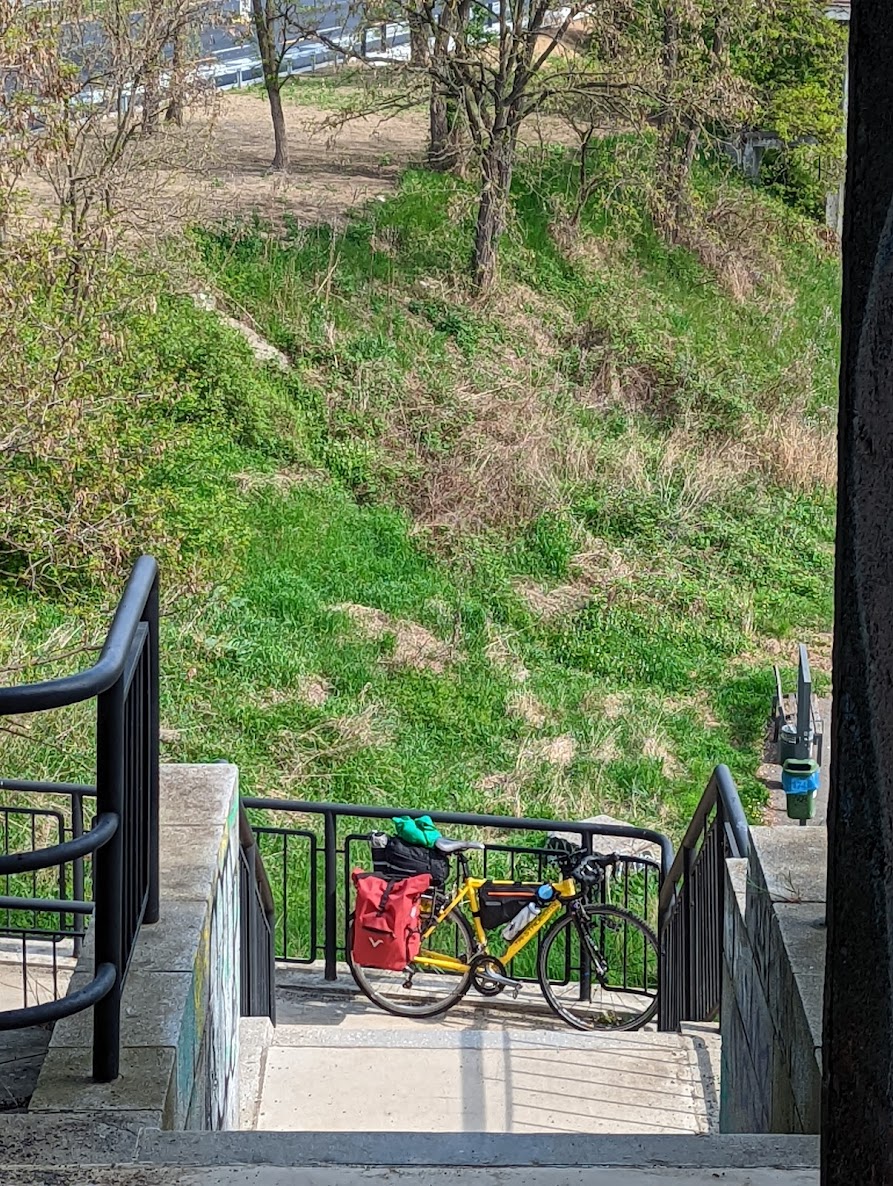 Well, in the Czech Republic, Google maps does not provide bike navigation. Only Pedestrian. So I was not surprised, and grudgingly carried my Bee-Two up up up the stairs. Now – I did not ride an electric assist, but with the bags, my Bee-Two was heavy as something. So those stairs were already a challenge at the very start of my trip. And then down down down the other stairs was not so much easier.
Apart from the bridge drama, no mayor problems – Czech people seem to like to cycle – all of Prague's surroundings were well equipped with cycling pathways – and those were used by whole families – by the way – pretty much all equipped with helmets.
Weekend – Sunshine. Everyone being outdoors.
On that first day I enjoyed the views, looked a bit into the city of Prague, marveled about the traffic, for food, I had some breadrolls and a bit of Milka cream – same principle like in France… My gas burner came to life – already I was glad to have taken this miniature device.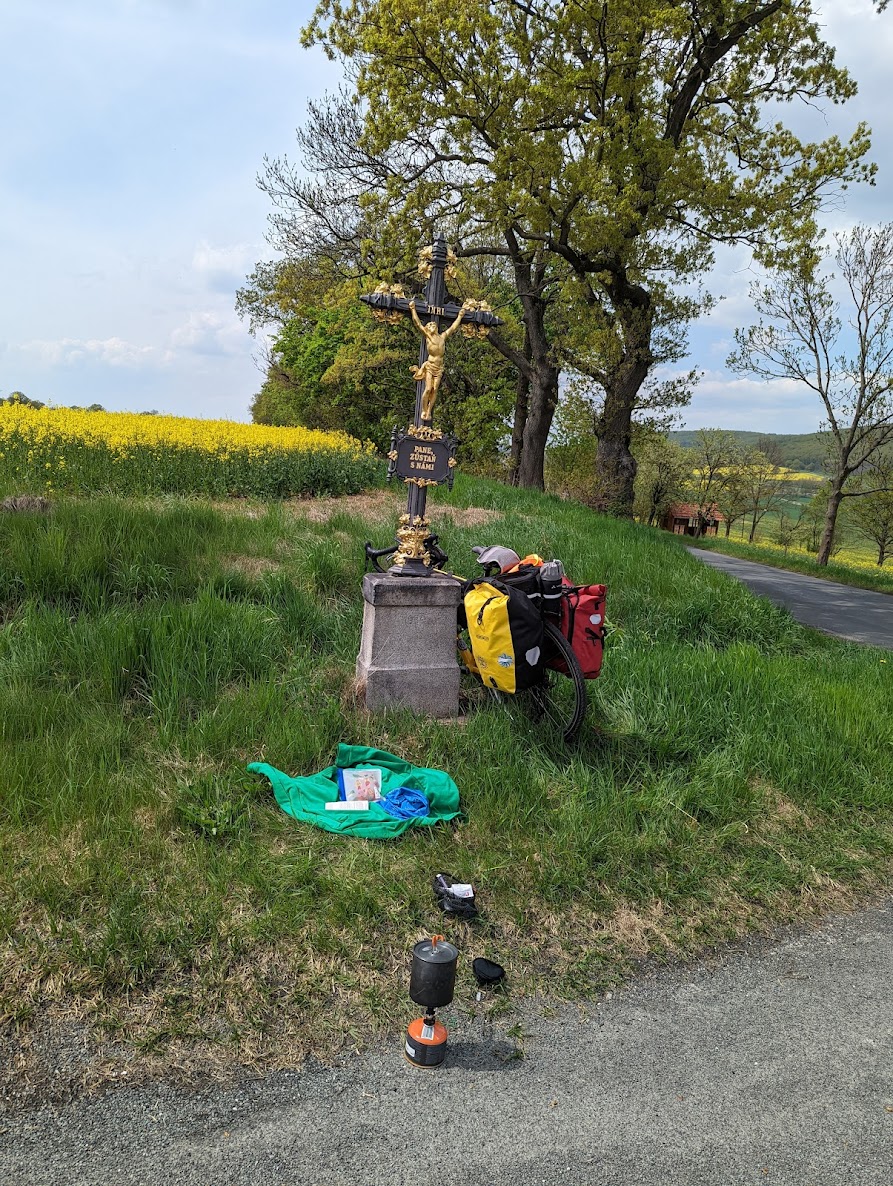 Gau Algesheim – being a partner city to somewhere here – Gau-Algesheim being the neighboring city to where my husband grew up. And when I just read this for typos and on the side googled this town I found that they have a bike museum.
small world…
European world……..
My plan – as each time – had been to call into some pension or hotel around mid-day – and for I did not quite find anything I thought suitable I continued riding until I came to the small city of Strasnice, where at the town hall they had a map of the city. I identified a pension/restaurant (my Czech is really bad – I had planned to practize some duolingo but was much to spontaneous in starting that trip that I wdidn't get far)
I arrived at the Na Poste restaurant/pension, to get the information that they were booked. I had asked for dinner and a bed.
bummer…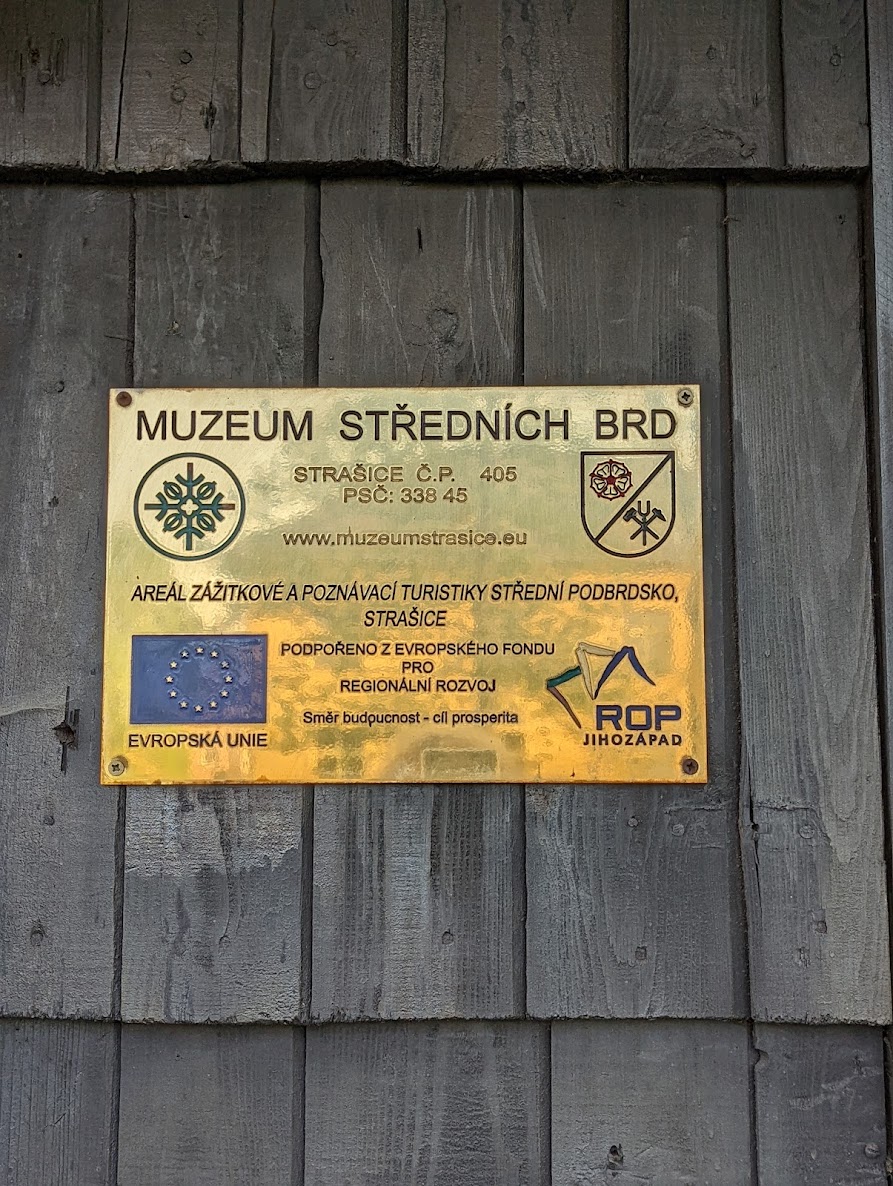 So this friendly owner called all over town, asking for a free room and got me a bed at the museum. This is one of those little town museums, showing off history of a small town, how people lived there many years ago – and I was allowed to sleep there 🙂
While the guy from the museum organized me the key, I got some nice dinner at Na Poste, and then followed my new temporary landlord to the museum.
Nice shower, washing some bike wear, doing my daily mile run, playing some ingress mission in this town and then I went to bed.