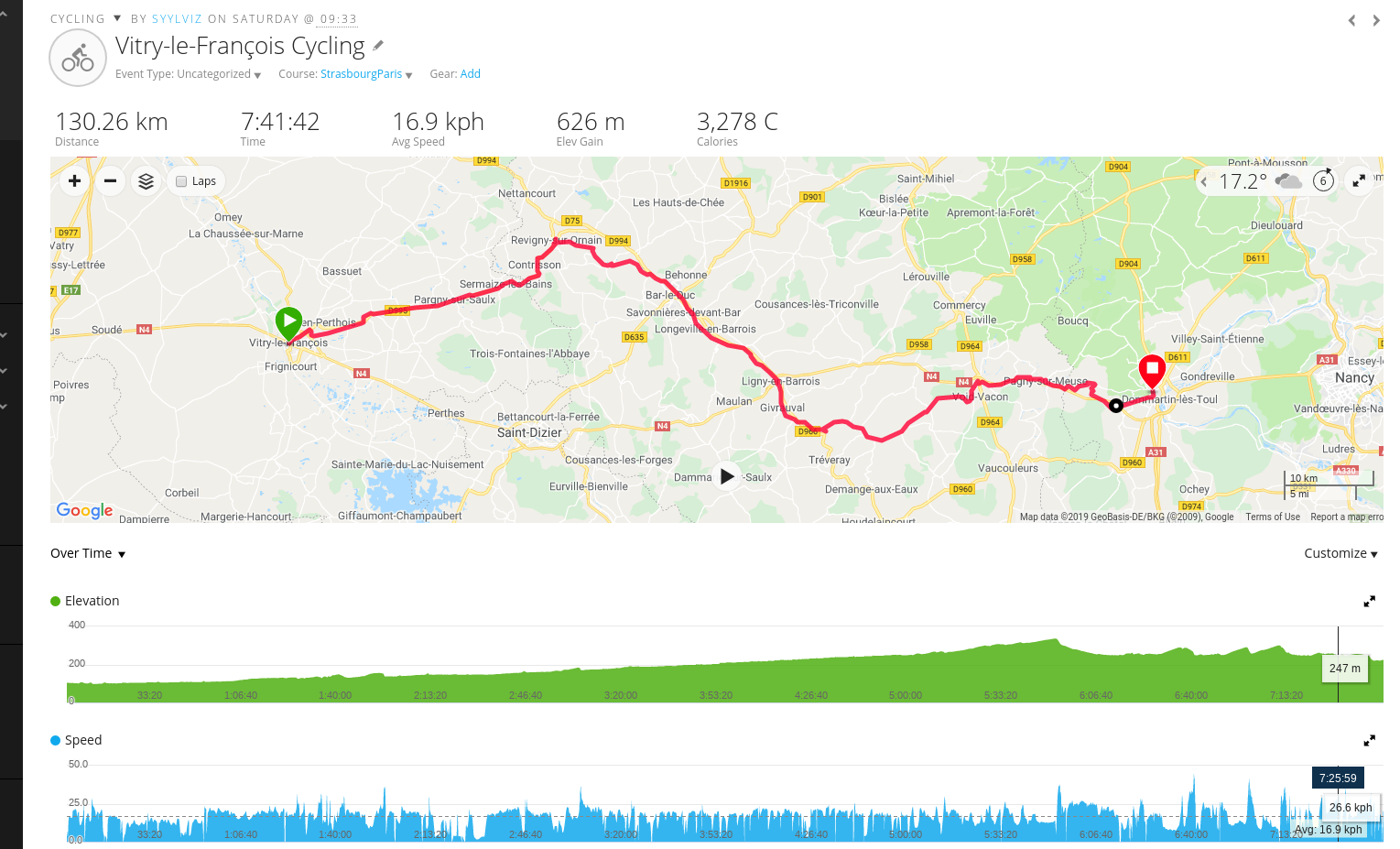 Starting out in Vitry – but I could not really start without a decent breakfast.
My room was really luxurious – the rooms in this B&B looked like showrooms in a real estate business. But this was one comfy bed. And also the yard was really nicely set up. I took a short walk out there to take a look. Like a mediterranean garden. With wicker furniture. Swings. chairs, tables. No wonder the people had been partying in the night.
They had set up breakfast on one large table. Plates. Corissants on the plates.
I recall my French friends in the dormitory who always had breakfast without plates. Just have some croissant or bread or baguette, dip in black coffee.Crumbs on the table can be removed later.There was more than black coffee and croissants – this was a decent continental breakfast. I paid, said my thank yous, forgot my water bottle, and set off.The wicked third day. I seem to recall that people going for skiing take the third day of for statistics show most accidents on the third day, when you are already comfy with skiing. And get careless.My 12km detour… I had defined that there are enough versions of this bike route online that I picked it up from Vitry (one version) instead of riding up the hills (the other version)So now I went by google maps and that one online version, followed another D-route, which went along one of the zillions of French canals.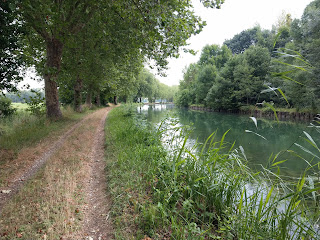 The route was very bumpy, more a grassy trail than a bike path. A meter from the canal I misjudged the slipperiness of the grass and crashed. Right foot, bike on top, left foot, Sylvi on the ground.
A quick assessment told me that there was no major harm done, I re-arranged my luggage, dug out the first aid pack – at least I did not lug it in vain – got me a band-aid for my finger, and continued my merry ways, but a bit more focused. Wicked third day.The next opportunity I hit one of the D-routes parallel to the canal and ignored what google maps was telling me.
I found a sister city to a town around the corner from my home… Europe..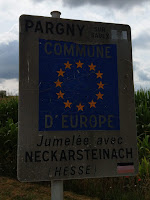 On my way I found a supermarket and got me some water, some red-bull (for lack of small coke bottles), a baguette, chatted a bit with the lady at the bakery counter.
Found a rock to have picknick on. No coffee but at least some food.
What? Tout seule? All alone? No I am not scared. Life is dangerous, whatever you do. And actually, French drivers…And me on my bike. Yes I got twice hollered at. First, for I misnavigated and ended up wrong way in a one-way street. The other time when I stopped a cyclist's way – slowing down to a near-standstill, but not with a foot on the ground.Both times the drivers were right.And all the other times I rode the D-something and people could not pass me they patiently waited until they could (or until I freed the way)Very patient, safety of the cyclists a priority.More hills, more victories.In Revigny both online-versions of the Pan European Bike Path re-unified.
Again, Picknick after 60-ish km. Baguette and Nutella. Plus raspberries I had collected ad some farmer's store.de.li.cious.Picknick at the canal and of course – we are in France – People passing by and people stopping, greeting me. Where am I from? Where do I go? Smalltalk. Connecting. I tell them it is the pan europe bike path and I am eventually getting to Prague.
More hills.It is slowly getting late and I find a cafe at some street corner. One cafe au lait. When the owner brought it to me, I sat down at the only empty table, and a minute later it was filled. People celebrating the end of day. Again, chatting, they had beers, I had coffee. My abysmal French, their pieces od German and English. Communication at work. Communication usually works some way. Usually in Germany you get told, French people don't want to speak English or German. And some of the language rules, French governments put into place seem to show this. THey say trikot when all the world says shirt. But if you try, you give it a little nudge with little knowledge of their language. show them that you respect that they have their own beautiful and different language, then they will start to communicate with all they have. It is all the question if you want to and if you respect each other.Actually this day I had thought about getting to Nancy, but google maps disillusioned me. So I called in at the hotel Europe in Toul. Booked a place.And arrived there around 8:30pm. A quick shower, again I had asked for recommendations for food.I ended up in a haute-cuisine place. "A Victor". referring to Victor Hugo, Again, same routine, after dinner I had to check if this city had portals – Ingress, the perfect way for sightseeing.

Everything was green so I went through the whole city and changed that. However, the city was decorated beautifully and I enjoyed strolling through. Also shaking out my legs from cycling. My blueing the town drew attention with the result that some green player started to build a long narrow field over the city.
Which he probably would have done anyways.I saw some of the pre-14th July fireworks. Heard more than I saw. And I had not been aware that the celebrations of the national holiday can occur at completely different dates. I traveled through villages which had their official celebrations a week later.Off to my comfy room. There was a lot of party noise outside. But what do you expect. Evening before the holiday plus beautiful warm weather…This is an European project.Cycling connects people. People ask when I am somewhere at picknick somewhere at a channel, one gets to talk, to communicate. This is going to be much more difficult when I get to the other end of this route. Or when I have selected the next route – maybe the one along the Danube? There are plenty.I shall have to learn basics of different languages but…. This.Is.About.Europe.Ingress connects people as well. I have never met so many new people before I started that weird game. While I am cycling – digital detox. No playing. But someone wrote to me when I sat in the train. cou cou velotriraptor. Huhu…And many of them I met, discussing things, serious stuff and small talk. Again.Europe. Growing together. And my tour being a tiny part of this.For now I watch the good people of Toul celebrate their national holiday.Two new portal nominations today (including a dinosaur)
… Good Nite Toul!