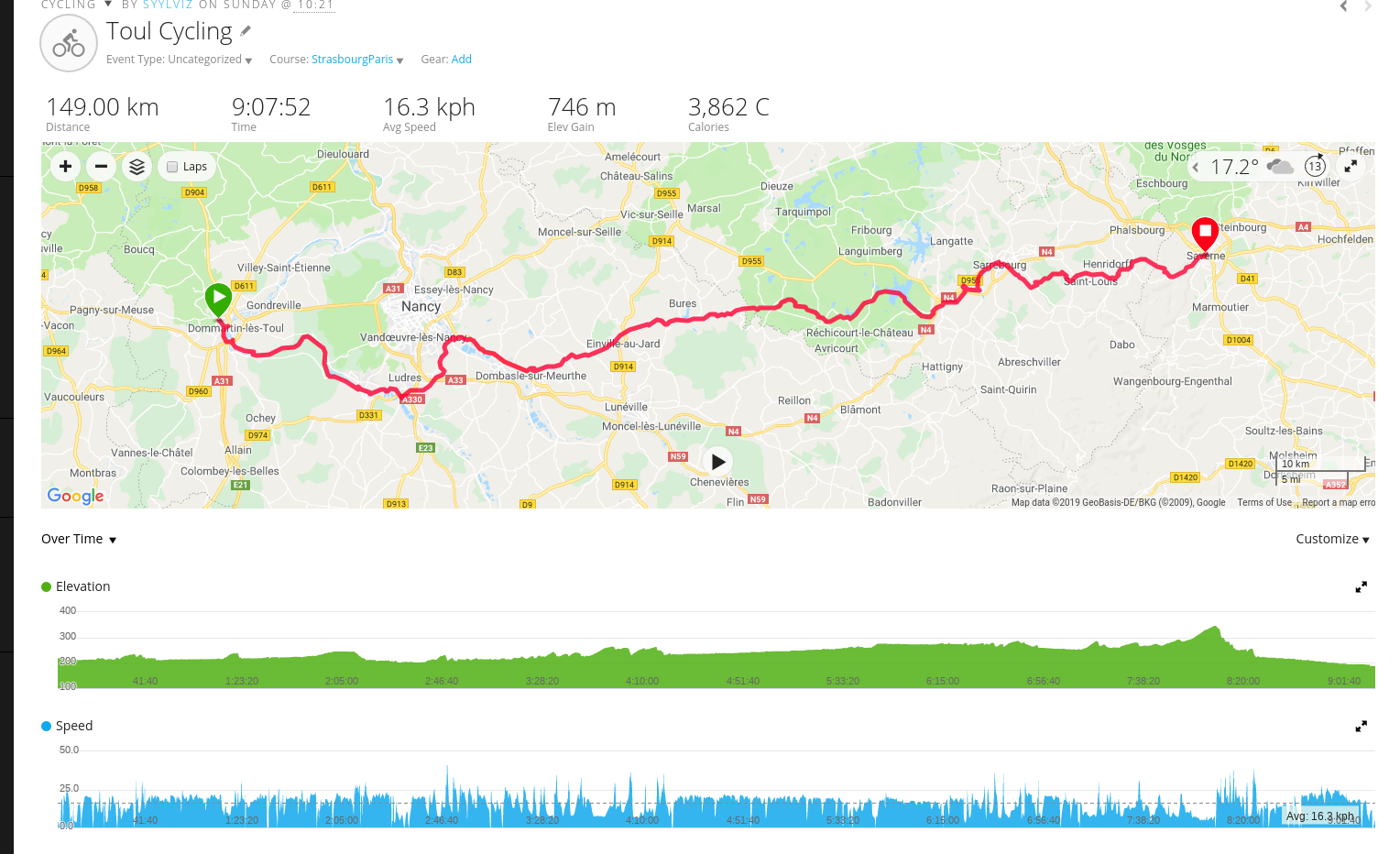 oul. I heard them partying all night, through the window of my room.
This trip was planned to be somewhat open ended. If I rode slower, I could append a day or two.
That's why I did this in the vacation time. But then – each additional day adds costs for lodging, food, etc.
I was not sure if I could manage to get to Saverne.
And – it was the French National Holiday. Bastille day. Stores closed, but everyone and his buddy on the roads.
A real holiday being celebrated by getting out of the house.
Stores closed so I was not sure how I'd find some food – but I knew I had some baguette. Some Nutella. I am not living off this diet all my life and carbs are ok for cycling.
But…
I did miss to stop somewhere for a coffee…
After riding 70km, I ended up at the bike path of the Canal du Rhin et Marne. And – Ta-dah – there was the first time I saw the signage of the Pan-European Bike Path.
Since I lost it in Rastatt.
They had remade the bikepath – brand new, smooth black asphalt.
But before I hit that path I first checked on my staples in nutella.
Picknick time.
I still had an apple. The hotel in Chateau de Thierry was inviting guests to take one for the day.
So, even vitamins involved.
The sign also said that it was 69 more km to Saverne. So I decided to book a hotel there.
Calling.
Hotel Europe. Again. European tour. European Bike Path… Okay, my selection was a bit skewed.
But the price was right and the hotel located centrally. This time, having reached Alsace, the lady at the phone recognized my German accent and continued to speak German.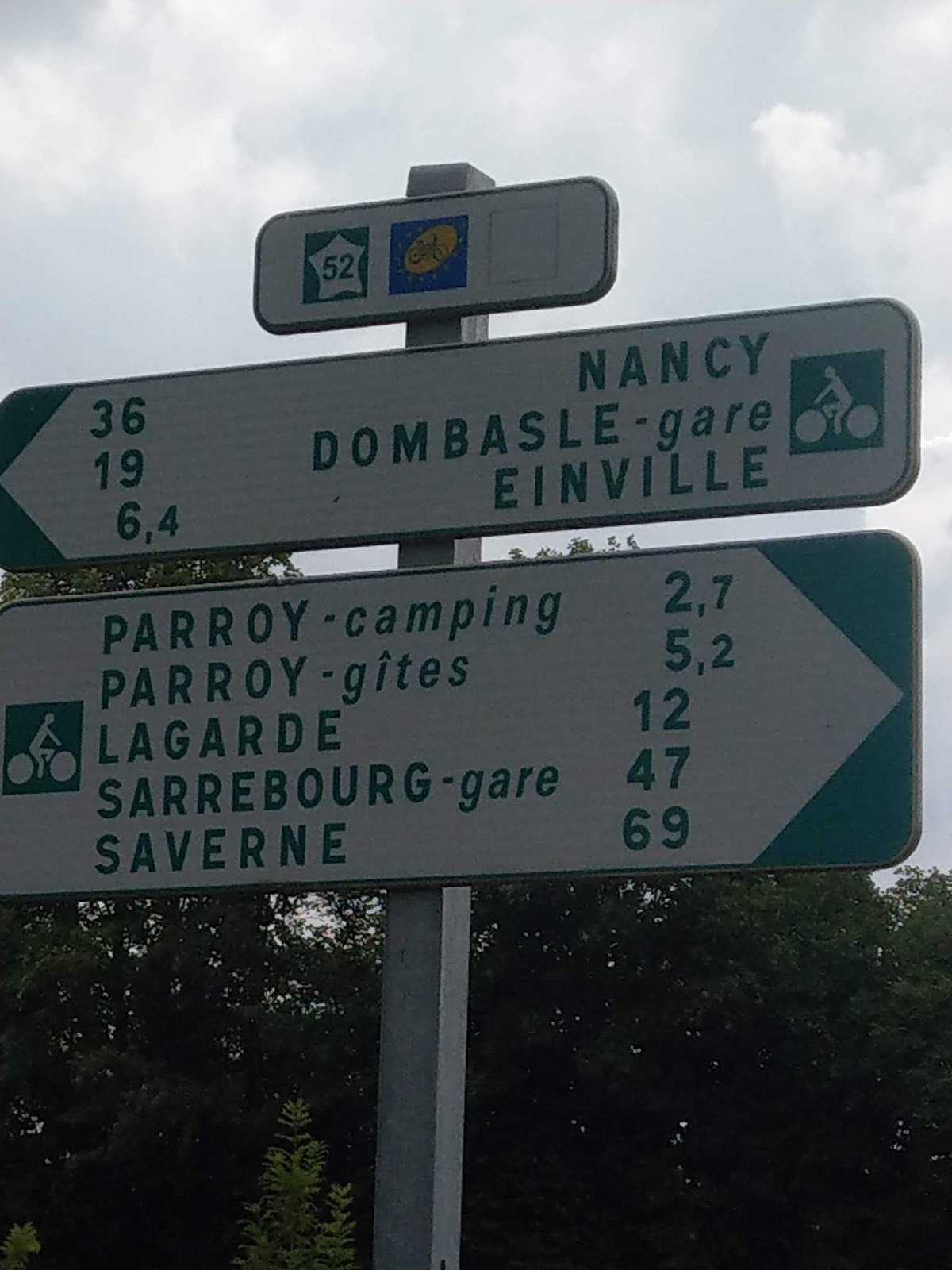 After booking I hopped on my bike and continued.
Those people here. naming their villages. They really like their "x" – half of the town names contained that letter.
My GPS, for I had lost the signage again, my GPS led me up a road. up up up… steep steep steep. Sometimes I wish for an e-motor instead of my purely Sylvi-powered machine.
But then. Every hill a victory – and what a victory it was. Top-of-the-world victory.
With altogether 140km in the plan, I did not stop a lot. Did not do what this trip was for – stopping, meeting people. But I looked around, rapidly changing landscape. Top of the world scenes. Pure beauty.
There was time for two portal nominations, though.
My Garmin told me how far I had come that day and when I hit 140km I had ended up in Lutzelbourg (gotta love that name) with… uh… ten more km to go.
Flashback Ironman Sweden. My bike computer telling me 180, but the route far from its end. and headwinds…
Why is it we mentally adjust to a finish. Like the time we are going to pursue something. Oder the number of km we want to accomplish.
And once that's done, the energy can vanish.
Back to my first Ingress Goruck event. Zero. Count down of pushups. Which means we know only three more. only two more…
But you can count "zero"."zero". … open ended. Every single pushup is a zero. Undefined end.
This is much harder because you stop looking forward to the end of the exercise.
But it is also training, deal with unexpected, adapt, id the road is longer.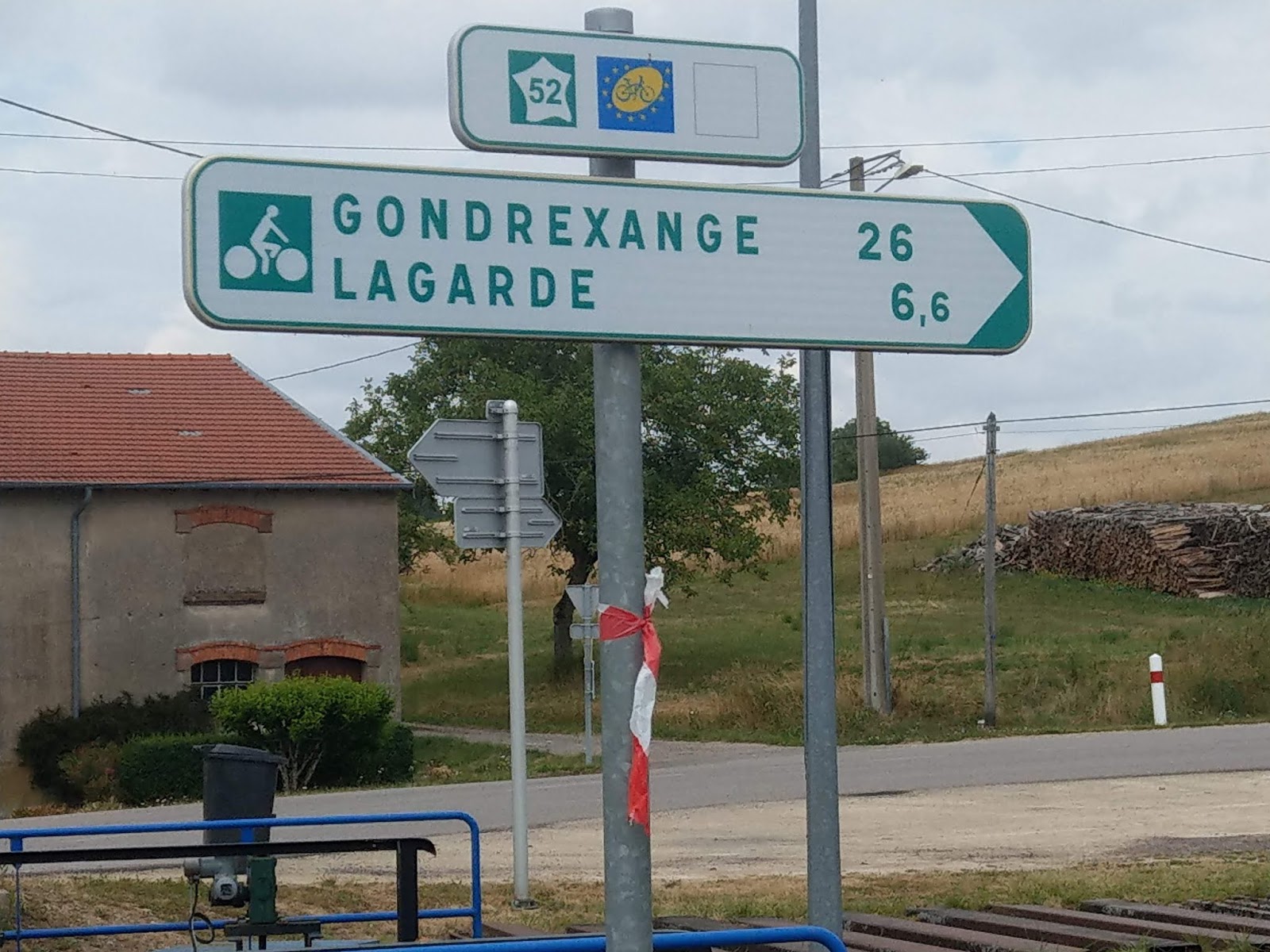 This was Lutzelbourg. Ten more km. At least that's what the sign said.
Well, turning around would be kinda stupid, and I am a DNQ-kind of person anyway. (Maybe it's DFQ – Don't F'ing Quit)
I had given the hotel an ETA which I overdid about a quarter of an hour, and of course the lady mentioned this. It was hlf past nine – a long cycling day, so again, I asked for a good food recommendation.
There was exactly one open place in town and she called there to make sure it wouldn't close on me.
So This German got to enjoy Italian food in France.
Europe.
After dinner, six portals in ingress. Then off to bed.
This had been a long day and an exhausting day but a beautiful day.