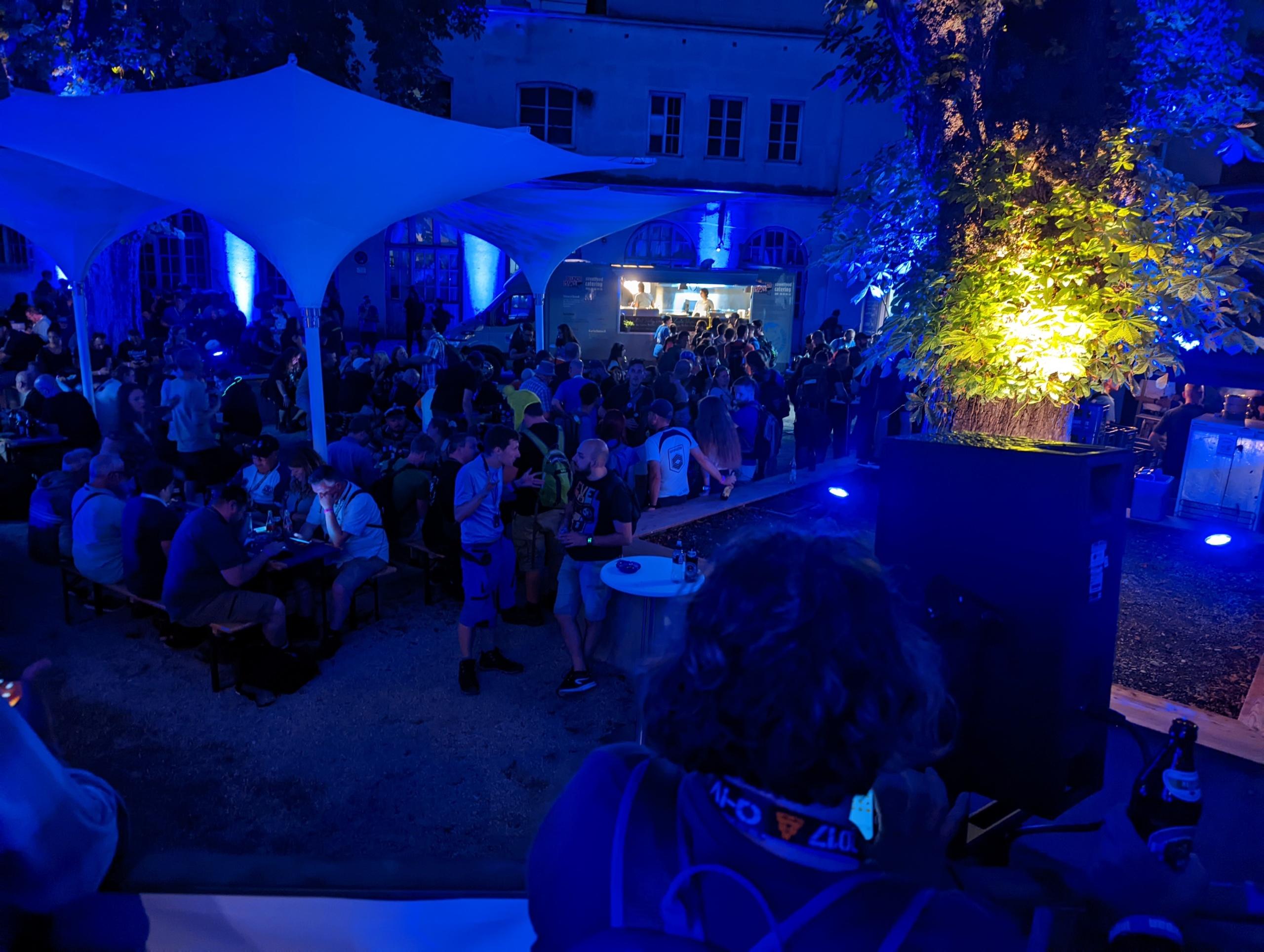 How could I not write about the best event so far this year… Well, End July there was the Ingress Anomaly, a battle with beacons, shards, we had GORUCK, we had a mission day, we had an overworked orga (THANK YOU), swag, too little sleep, a nice after party,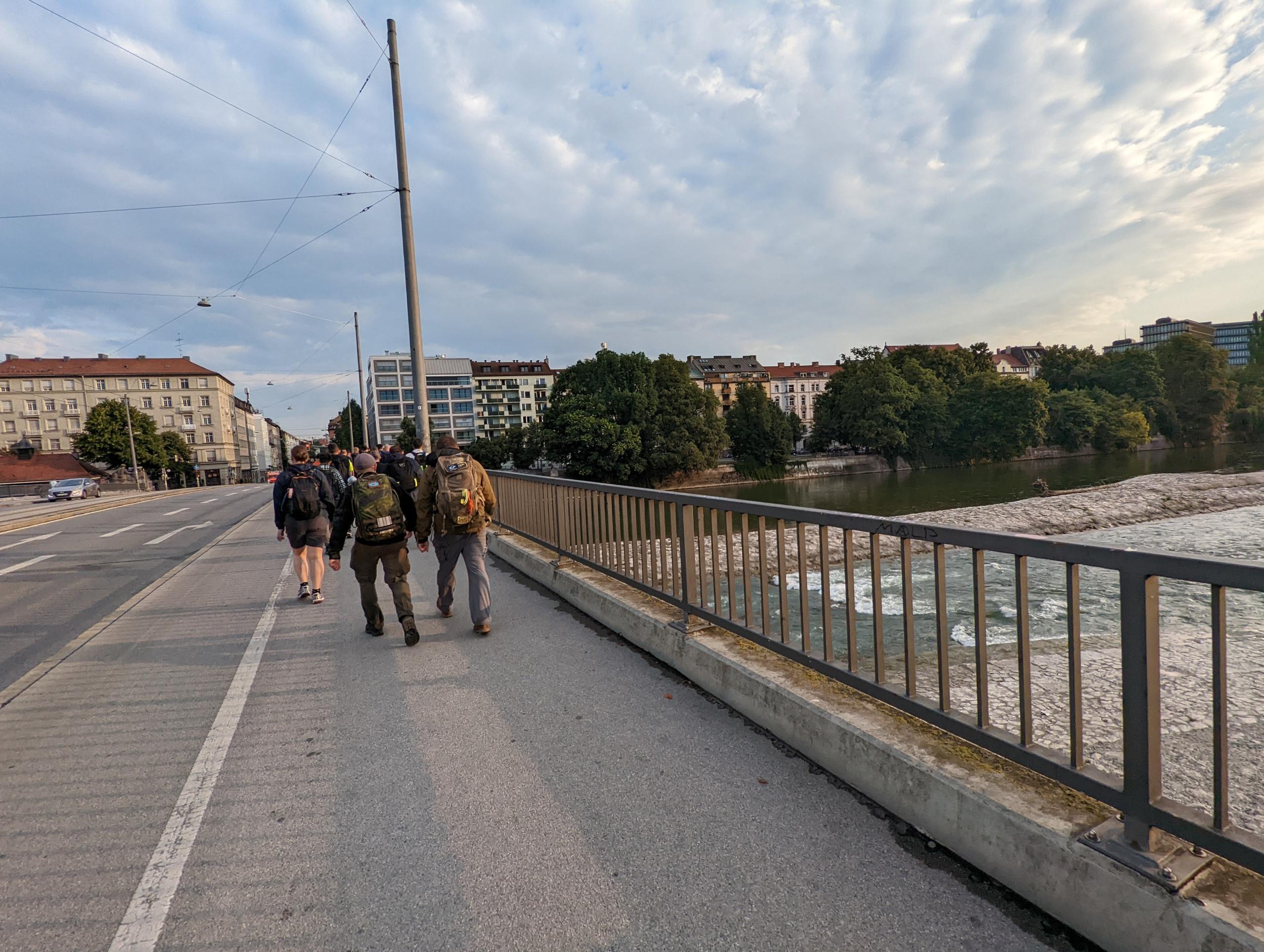 But starting from the start…
This was such a busy set of weeks – leading up to the Anomaly – but every agent who planned to go was really looking forward to the first meet after all those Corona months. Did not help that I had blocked Friday from work, but then ended up having a morning appointment nevertheless.
So I helped with that last workshop, packed up and started directly from work to Munich. Not very ecologically,. I noticed 40km into the drive that all my identity (documents, bank cards, etc) had not made it from work into the car… Yes, I pay by google pay, but this won't work for the campground. Probably. And not for many things in our not-so-digitalized country.
Arrival around 14:30 turned into 17:30 which meant I'd not directly go to the camp ground but directly to the starting point of GORUCK stealth. I was very nervous – supposedly the founder of GORUCK was to be our cadre – and who knows what this person would throw at us for the next twelve hours. The ingress GORUCK events had been six hours in the near past, I have had done only one for twelve hours which at the time was taking place from 18:00 to 06:00 – some time to cool down and shower. Whatever, we humans usually manage more than we dare so I unpacked my bike, took a quick trip to the preregistration, picking up RES swag, all the stuff for my bike team, and then it almost was time to meet Kris, who nicely provided plates for the ingressers who had just made it into town my plane. Unfortunately those guys weren't at the meeting point so with the help of one more person we brought the items to the Monopteros in the English Garden.
Cadre Jason was already there, there was some meet and greet and distribution and repacking of items, and we started out with some favorite PT. This was going to be a very long night – and it was. But it was nothing undoable – just – ENL won with the very very last task – to put a glyph into the floor, formed from their bodies. We just were a few seconds too slow… Too bad, but getting two intel bits was good…Staying underwater and holding one's breath… Racing. One of the races one of ours tripped and the following racer in the relay waited for him to be okay… Sometimes it is more important to be human… Also with one medical issue when an agent could not go on – Real life first – health first… Jason differentiated – those who were more into rucking and those who were more into heavy PT… It was a very eventful night, and morning and around 8:30 I found my car, collected the borrowed plates and bits of equipment, and drove to Thalkirchen to the campground. Signed in. Did not bother to set up the tent and just crashed in the car. One hour sleep was a mistake. /
The whole of velotriraptor was one block of lead. All right, time for a coffee, some – never before tried power energy caffeine thingy, Cycling helped a bit. Up on my bike and to the meeting point for my team… "My" team – four avid cyclists, me formally being team lead but this essentially means a short briefing for they are all through reading the instructions, listening to the briefings, experienced players. So we talked about the objectives, shared my thin crust pizza, and I distributed their cards. And then we were already supposed to get to our places… Anomaly!!! Yeah!!!! This has been two years since we had an event like that.
I had someone get a few keys for me – because of GORUCK I had had no chance for farming. Riding the bike after such a long night – I really had to keep focus, not to ride into the pedestrian zone, or a tram or car. The last time I had something like this was like five (?) years ago in Rotterdam, but then I was team radio, and we went in the group. This time each of us was having their own agenda – scoring shards, building links, helping with logistics.
As if Niantic had not expected us, some parts of the game went really sluggish. At the end – at 17:30, nobody really knew or had a hunch who won. Or so it felt… So I cycled towards the Praterinsel, I had a ticket for the Niantic party – and – hey that came with one drink and one food item – there is no reason for complaint – the food trucks provided good stuff, and they had life music, a swag store, unfortunately in the basement, some raffle, yet, still that virus – I was outside most of the time. Then the results came – we had won!!! Celebration!! some alcohol (not for me – I still had some biking to Thalkirchen) Lots of nice people. All those whom I had not met for so long… S